Scarlett's wish to walk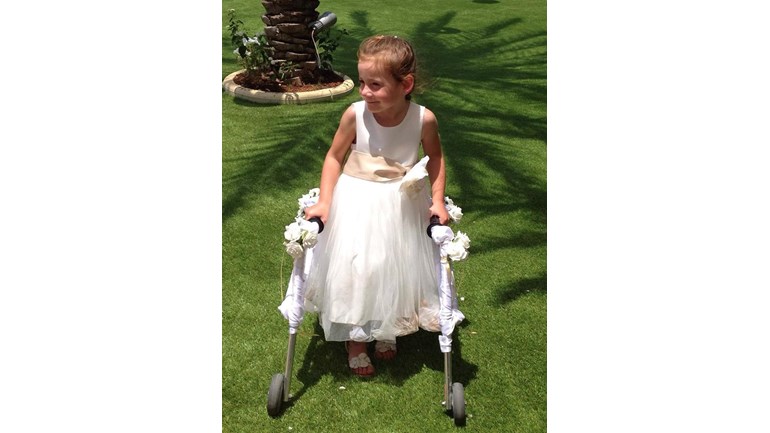 Here is where just a few minutes of your time can change this little girl's life forever.  Turning Scarlett's Wish2Walk from a dream into a reality.

 Hello, my name is Scarlett, I am 9 years old and I have Cerebral Palsy. I have just been accepted to have a life changing operation called Selective Dorsal Rhizotomy at St. Louis Children's Hospital in America. You can read about this amazing operation here:
http://www.stlouischildrens.org/content/medservices/aboutselectivedorsalrhizotomy.htm
Here's my story...
When I was born I had a really tough time. I entered the big wide world 8 weeks early weighing 4lb 7oz and I had to be resuscitated as I wasn't breathing on my own. As a result of this, my brain and my other internal organs were starved of oxygen and I sustained a bleed on my brain. I was rushed to special care where I was wired up to life support and lots of other machines. The next day, the doctor came to see me to check me over and listened to my heart, he heard a murmur and ordered for me to have an heart scan. The doctor then told my Mummy and Daddy that I had a major heart defect called Transposition of the Great Arteries (TGA for short) and I urgently needed an operation. At just 2 weeks old, now weighing 5lb and the smallest baby the surgeon said he had performed this operation on, I had life-saving open-heart surgery to switch my arteries to the correct position. Although my heart operation was a success, the brain damage that I had sustained at birth had resulted in me being diagnosed with PVL and this is the most common cause of Cerebral Palsy. 
Having this condition means that the muscles in my legs are very tight and often quite painful and therefore I am unable to run around in the garden with my two younger sisters. I am also unable to stand unaided and I need assistance to move in and out of positions. I struggle on a daily basis with simple tasks that we all take for granted like dressing and undressing, using the bathroom. I have trouble in sitting positions, like sitting crossed legged or long sitting, without experiencing pain or losing my balance. I also wake up on a nightly basis with painful leg cramps and spasms. 
I dream that one day I will not have to use my walking frame or wheelchair anymore and that I will be able to play in the playground with all my school friends and run around just like them. Sometimes it makes me so sad to sit watching them because it really is hard work when you have this condition and I get very worn out trying to keep up with them.
SDR is not available on the NHS so for me to be able to have this operation, we will need to raise £65,000 to cover the cost of the operation and some of the intensive physiotherapy that I will need afterwards, and any funds remaining will be used to purchase a log cabin to be used as my very own Physiotherapy and strengthening room, along with the purchase of any other therapy and exercise equipment that I may require in the future. 
P
lease can you help me raise this amount so that Mummy and Daddy can take me to America to change my life forever.
The surgeon, Dr Parks, has said that if I have the operation then I will 'walk independently in all environments with improved balance and endurance, have reduced spasticity, have better sitting and standing posture, my standing balance and level of comfort will improve'. 
Dr Parks administers the complex operation that destroys the 'bad' nerves leaving the good ones. This operation results in correct messages being sent to the legs and this helps to loosen the tight muscles to allow me to walk. The cutting of the nerves in the spinal cord is a complex job requiring the most skilled surgeons and we only have one chance to get it right. For this reason this 'specialist' hospital in the USA is the most likely place in the world to make a life changing difference to my life.

Thank you so much for taking the time to read my story and please support me by making a donation. It does not matter how small your donation is, any amount will go towards "making my wish come true". xxx
We would like to say a huge thank you to everyone who has donated and helped us on our fundraising journey for our daughter Scarlett.
Because we have reached our target for Scarlett's operation and there are a number of events still yet to take place, our friends and family that are fund raising for Scarlett all want Scarlett to benefit from the money they raise therefore we have been advised to up our target so that the money raised for scarlett will go towards her ongoing rehabilitation program, a therapy cabin/Physio room and any other therapy/exercise equipment that she may require In the future. The amount of physical therapy that Scarlett will require after her surgery is just as important, if not more so, then the operation itself. 

Again we thank you all sincerely for the fantastic amount of support you have all given us, we really couldn't of done it without  your help. 

We will be forever grateful. 

Love from the Hewitt family xxx
Thanks for taking the time to visit my JustGiving page. 
If we exceed the target amount or if we do not raise enough, or if the funds cannot be used for any other reason, they will go to Tree of Hope to help other sick children.
Donating through JustGiving is simple, fast and totally secure. Your details are safe with JustGiving – they'll never sell them on or send unwanted emails. Once you donate, they'll send your money directly to the charity. So it's the most efficient way to donate – saving time and cutting costs for the charity.