savannahs quest for a vest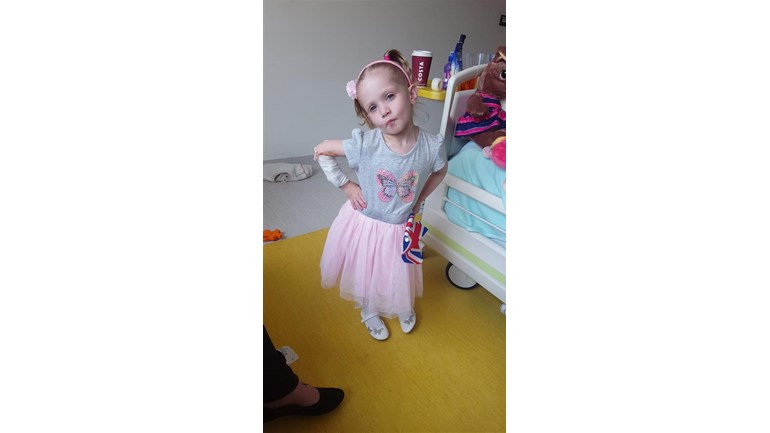 Savannahs story. Updated! 
Savannahs chest has been getting worse and worse over the past few months. She has had 3 hospital admissions lasting up to 3 weeks at a time. We are currently in alderhey childrens hospital where she has had a gastostomy. To be tube fed to help her gain weight. Much needed weight to help fight infections. She is extremely mucousy at the moment. So they want to do a bronch to see exactly what is going on in her lungs. This physio vest could help loosen all the mucous so she can cough it all up. 
I am trying to raise money for a Physio vest for my daughter. This will help her have a longer future. To understand why we need this please read her story.
Savannah was born at 39 weeks. 
She was a tiny little 4lb 14oz bundle of joy, but it was soon apparent The something was seriously wrong with her, she wouldn't feed properly and didn't pass her first poo in the first few hours. Slowly her belly started to swell up. I knew something was up. She got sent down to special care baby unit into an incubator. she had to have an xray to see what was wrong. Then we got told she had to be rushed to Alderney Childrens hospital. When we got there, there was loads of pricing and poking and we got told her bowels hadn't formed properly and had to have an operation. We walked her down in tears.  The whole time a blubbering mess. we waited the long 4 hours for our precious girl to come back from theatre all I could think was please let her be ok. After what seemed like a life time she came back up. And was told the operation was a success but it wasn't what they originally thought it was. They said it was probably cystic fibrosis. All I could think was cystic what? They couldn't be sure until they, did blood tests  andctold us not to Google what it was until they where 100% sure. So on the 5th October 2012 our beautiful girl got the diagnosis of cystic fibrosis. It was a huge shock that our tiny little baby girl had a lifelimiting, life threatening disease which there is no cure for. I was heartbroken, a total mess. not knowing what the future would hold for my little girl. Not fully understanding what the diagnosis meant. 
We had to learn how to do physiotherapy, how to draw up medicines and how to adminisrer them to our little girl before we could leave the hospital. But we eventually left after 4 long weeks.
This physiotherapy vest will help shift mucus of off longs making it easier for her to cough it up. Meaning she can breath alot easier. Also preventing infection which means less scar tissue on her lungs. So less chance of needing a lung transplant.
Some information about cystic fibrosis.
It is estimated that one in every 2,500 babies born in the UK will be born with cystic fibrosis and there are more than 9,000 people living with the condition in this country
Cystic fibrosis is a genetic disorder. If you have cystic fibrosis, one of your genes does not work properly. This is known as a CFTR gene which is on chromosome 7. There are different mutations that can occur in this gene and this means that there are different severities of cystic fibrosis that occur.
This gene helps to control the way the cells handle sodium and chloride ions (salt). The mutation in the gene results in the cells being unable to handle sodium and chloride properly. As a result, cells in affected organs have a fault in the way sodium and chloride travel in and out of the cells. Basically, too much sodium travels into the cells. Water follows the sodium, which leaves too little water outside the cells. This causes the mucus or watery secretions outside the cells to be too thick (for example, thick sticky mucus in the airways of the lungs) 
Thanks for taking the time to visit my JustGiving page.

Donating through JustGiving is simple, fast and totally secure. Your details are safe with JustGiving – they'll never sell them on or send unwanted emails. Once you donate, they'll send your money directly to the charity. So it's the most efficient way to donate – saving time and cutting costs for the charity.