2020 Lockdown Challenge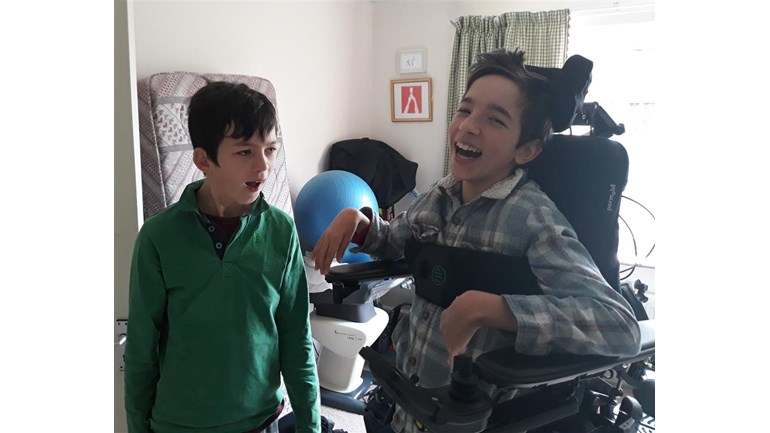 UPDATE:  We have been so overwhelmed by the donations which have flooded in - it has been difficult to keep up! The response has been incredible - thank you to everyone who has donated and who has taken up the #2020LockdownChallenge.  As many are still doing their challenges this page will stay open, but please don't feel you have to donate....many charities need our support at this time so feel free to point your pounds elsewhere..

If, in the final reckoning, we have overshot the target for his chair, your donations will go towards a running bike - a curious piece of kit which is brilliant for keeping him active and getting his blood pumping...something which we all need to keep our spirits up.
If you are still keen to take on the challenge and/or donate, please read on!
Will you take on a 2020 Lockdown Challenge during May and help us to raise funds for a worthwhile charity and a new set of wheels for Sam?

Sam, now 14, is growing fast and needs a new powered wheelchair. The very basic model offered by the NHS will not provide him (a physically  compromised but cognitively bright and inquisitive boy) with the therapeutic support and access to the world around him as will our preferred choice - a Permobil sit-to-stand model...but this choice comes with a significant (well into 5 figures!) price tag.
Tree of Hope support disabled children by helping to secure funding for specialist equipment and medical treatments and hence we are asking you to do a 2020 Lockdown Challenge and support them and Sam in the process.
There are just five simple steps to take:
Dream up your 2020 Lockdown Challenge - perhaps baking, cooking, reading, running, playing, performing, selling, dancing, quizzing, compiling, learning something...the list goes on.

Donate through this justgiving page.

Challenge others to do their own 2020 Lockdown Challenge (supporting this or another cause).

Complete your challenge (sticking to the current government Coronavirus related guidelines).

Share the story, a photo or video of your challenge by email or on social media, tagging @Camilla.Sherwin on FB, @CamillaTopsySherwin on Insta and using #2020lockdownchallenge.
Thank you and we hope you have some fun whilst doing this. That said, we completely understand that many are feeling stretched or have other causes to support during this time.