Run, Amélie, Run!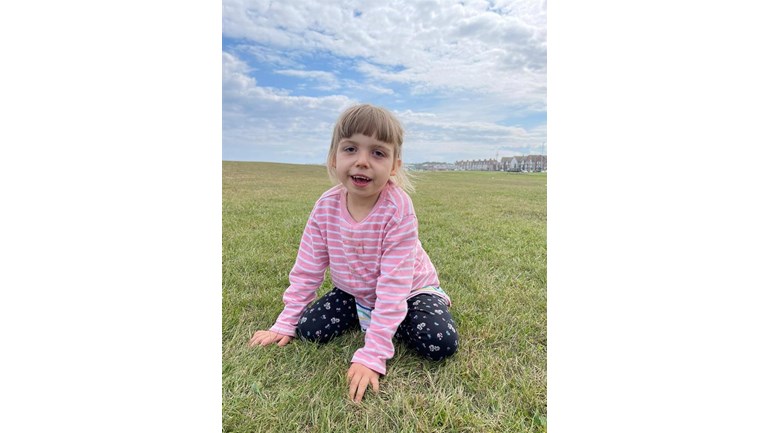 Hello, I'm Amélie, I'm nearly 7 years old!

I'm raising money to help buy a really important, (but really expensive!) piece of equipment that will help me walk (and maybe run!), that will last me a lifetime. It's called an INNOWALK, and it is a motorised system that helps me move my feet, legs, hips, and arms in a way similar to a cross trainer.
I don't have a diagnosis, I'm known as a SWAN (Syndrome Without A Name). Since I was born, I have been unable to talk, walk, or feed myself. I move around by bunny hopping across the floor, and I let others know that I need something by vocalising different noises.
I would love to go on a real cross trainer, and nothing would give me a greater sense of pride and independence than being able to walk (or run!) by myself. I have been making good progress at school where my physios and teachers are really helping me progress with my walking and core strength. I am now beginning to stand up whilst leaning against a chair and am able to take assisted steps around school and my home.
Over the last 4 weeks, I have been trialing an INNOWALK which was loaned to me in my home. It has been so beneficial to me, that having completed 400 metres in 20 minutes on the first day, I reached a personal best of 8km in just under 2 hours – my parents are extremely proud of me 😊 - but I'm not stopping there!!! I want to keep using an INNOWALK and breaking my PBs to help me achieve my goal of being able to walk independently.
I have never previously been able to stand for longer than 40 minutes in a standing frame (which I am strapped into), as my legs get too tired from being in a fixed position for so long. The INNOWALK however, allows me to move my legs, body and arms in a walking motion, which means that I have been able to build my muscle strength in all of the different muscles in my legs, tummy and upper body.
My physios have noticed a massive difference in my ability to walk assisted, even in the short time I have been trialling it. They say I have made huge steps to becoming more independent, I am only holding onto one of my physios hands to walk across the room now.
My mum and dad also think it is really good as it helps me (and them) get a better nights' sleep as I am usually knackered after a session and I wake up less frequently in the middle of the night.
The INNOWALK is really expensive, and it is very difficult for my parents to undertake fundraising activities such as sponsored runs, rides or climbs, as they spend most of their time looking after my needs and are very tired – especially as they also entertain my little brother Freddy who is 4 years old! I would therefore appreciate any fundraising activities you can undertake to help me reach my target. All of your contributions will be gratefully received, and I'm really hoping I can get running myself and help others achieve their goals.
I will keep you updated with my progress and thank you for reading my story.
Amélie  x
*UPDATE - Amélie is very close to reaching her target now so we are really hopeful that she will get an Innowalk in time for her 7th Birthday!!! Thank you all so much - we couldn't have done it without you and this is going to make such a difference to Amélie's life. You are all amazing!! If there are any surplus funds, these will be used for complementary therapies for Amélie, such as physiotherapy to make sure she is able to stay mobile and make the most of the Innowalk!*
THANK YOU EVERYBODY FOR EVERYTHING YOU'VE DONE AND ARE DOING. YOU ARE ALL VERY THOUGHTFUL AND WE ARE VERY TOUCHED BY EVERY SINGLE CONTRIBUTION XXX
7.5% of all donations to Tree of Hope in relation to this appeal will be allocated to the general charitable purposes of Tree of Hope to cover our core operating costs. 

If we raise insufficient funds, or surplus funds, then the funds will be used, if appropriate, to fund support for our child's needs in accordance with Tree of Hope's charitable objects.  If in those circumstances we are unable to use all or part of the funds for the benefit of our child in accordance with Tree of Hope's charitable objects, then any funds that cannot be used will be transferred to be used for the general charitable purposes of Tree of Hope.