Ruban's Wish To Walk - SDR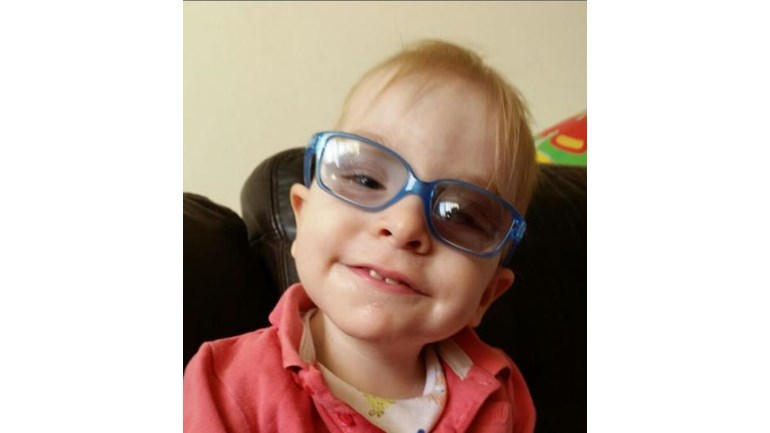 Thanks for taking the time to visit my JustGiving page.
My name is Ruban aka 'The Legend'. I am two years old next month (June 2015).
When I was in my Mummy's tummy, everything was going ok. Mummy, Daddy, Nanny and my big brother Mason would often talk to me and rub Mummy's tummy and tell me all about how life will be when I arrive. None of the scans picked up on any of my 'Quirks'.
I made my entrance 3 weeks early on the 8th of June and changed everyone's lives forever. My family would tell me I was perfect, and the only thing that was picked up was that my eyes weren't quite right. Nobody knew if I could see anything because I had clouding over my corneas. Mummy, Daddy and Nanny knew from then that my life story would be different to the one they told me about inside Mummy's tummy... But they knew that even though it may be a different story, it would be just as amazing when on that very first day I was born I gave them a very big smile.
At 8 months of age, I was admitted into hospital for 6 nights, with a severe case of Bronchiolitis and a chest infection. My Mummy and Daddy believe that this was due to my undiagnosed Dysphagia, which was causing me to choke on my fluids. I had a feeding tube, due to dehydration and was on oxygen. I was very close to being put into induced sleep, for aided breathing.
But like everything else, I surprised the doctors by fighting it and smiling as soon as I had the strength.
After many hospital visits, Mummy and Daddy made the difficult decision to have the lens in my left eye removed at 9 months of age, to remove cataracts and dead blood vessels attached to my lens. The hope was to clear the way for light into my eye and improve my vision. Unfortunately this operation was unsuccessful, as the lens could not be reattached, due to the size and shape of my eye and the damage to the lens by the clouding.
That means I am partially sighted. I can make out light and dark in my left eye, but not shapes and objects.
I also have something called Nystagmus in both eyes, which means my eyes shake uncontrollably. My Daddy says his eyes do the same when he has a drink, but he won't let me try any.
From a very young age I learned how to find the 'Null Point', where I could stabilise my good eye to get better vision), but this also means that I get pain in my neck after a while, due to my unusual head position.
I showed my Mummy, Daddy and Nanny just how special and unique was when I wasn't reaching any milestones. I tried to sit up, but no matter how much Mummy and Daddy helped me I just couldn't do it. My body wasn't doing what my mind was telling it to do. Mummy and Daddy knew I had spasticity in my legs and inwards pointing feet but the professionals kept telling Mummy and Daddy that I was just still very tight and to just massage my feet. But nothing helped and finally I got to meet my physiotherapist who said that I have something called high muscle tone. 
Since then I've brightened the lives of many other professionals including my neurologist who has just given me an MRI scan under general anaesthetic. We are all waiting on the results to find out what is happening in my little brain. I have also had blood samples taken for genetics testing...
My Mummy and Daddy have set up a Facebook page (Ruban's Wish To Walk - SDR), a Twitter account (@RubanTheLegend) and most importantly this JustGiving page to raise awareness and for funding, to enable me to have SDR (Selective Dorsal Rhizotomy) and vital physiotherapy in the months after.
SDR is an invasive surgical procedure which will remove the spasticity in my legs (but not my arms, which I have to a lesser degree).
The procedure has a 100% success rate, but requires months of intensive physiotherapy afterwards, due to the muscles then being completely the opposite of their original tensed state (high muscle tone).
This surgery and the physiotherapy following it will enable me to walk, reduce the pain, discomfort and tiredness associated with constant high muscle tone.
It will also prevent further complications and therefore the need for numerous very painful operations on my hips and legs in the future.
With the extensive and intensive physiotherapy, I will learn to walk from scratch. My legs will never be the same as other children's, but I will eventually be able to walk, play and maybe even run and jump with other children, hopefully without the aid of a walking frame.
Here is a list of the 'Quirks' that make me 'The Legend':
Peters Anomaly A.S.D.A. (which is my diagnosed eye condition).
ACC - Agenesis of the Corpus Collosum (the white matter of my brain, in the centre of the left and right hemispheres did not form properly).
Chiari-1 Malformation (the back of my brain goes beyond the base of my skull, where it should not - this can cause extreme headaches and irreversible stiffness of the arms, requiring Decompression Surgery on my skull - my Mummy and Daddy have to take me for regular MRI scans to keep an eye on this).
Undiagnosed Cerebral Palsy (a brain injury caused during birth, which my Mummy and Daddy are certain that I have this and are awaiting further tests).
Hyperphotosensitivity (my eyes are very sensitive to sunlight and bright light).
Nystagmus (my eyes shake uncontrollably - from a very young age I learned how to find the 'Null Point', where I could stabilise my good eye to get better vision).
Ocular CHP (compensatory head posture - I have to hold my head in a certain position to be able to see properly with my good eye).
Glaucoma (I have pressure problems in my left eye which I need daily drops for, otherwise I could lose the eye).
Elliptical pupil (the pupil in my right eye (the good one) is shaped like a cats eye. You have to get close to see it though!). The pupil in my left eye is fully dilated and stays that way all the time.
Dysphagia (I choke on liquids, so need to have 'Thick and Easy' starch powder added to my squash bottle.
Global Development Delay (this is where I learn everything a little bit slower than other children).
Motor Dysfunction (this is where my muscles do not function the way they should).
Axial Hypotonia (this is my lack of stability and balance in my trunk area).
Dystonia (the increased muscle tone in my hips, legs and feet - and to a lesser degree in my shoulders).
Chronic Consipation (due to my increased muscle tone, I have to drink 'Movicol' every day. If I miss any, I have very traumatic and painful number twos).
Tongue Tie (my tongue does not move as freely as it should, which can affect my speech).
Frenum Tie (a part of my gum separating my two front teeth, giving me a cheeky goofy smile!).
Final word:
Due to the SDR surgery having a 100% success rate, my Mummy and Daddy are fully committed to giving me this opportunity to lead a life like any other child - and a successful and pain-free future as an adult.
The optimum age for this surgery is four years. So we have two years to raise the amount needed for this life-changing procedure.
Please visit my Facebook page 'Ruban's Wish To Walk' regularly and follow me on Twitter @RubanTheLegend, to find out more information about the surgery and everything related to the fundraising. Please do not feel expected to donate. Spreading the word for me and increasing the reach of this cause is just as important. Thank you from my Mummy (Becki), Daddy (Darren), big brother aged 7 (Mason), Nanny (Karen) and of course the 'Legend' myself, Ruban xxx
Now over to Mummy and Daddy:
Should we exceed the target amount, or if we do not raise enough funds, or if they cannot be used for any other reason, the funds raised will go to the general funds of Tree Of Hope to assist other sick children.
Donating through JustGiving is simple, fast and totally secure. Your details are safe with JustGiving – they'll never sell them on or send unwanted emails. Once you donate, they'll send your money directly to the charity. So it's the most efficient way to donate – saving time and cutting costs for the charity.