Rosie lynn Kirkman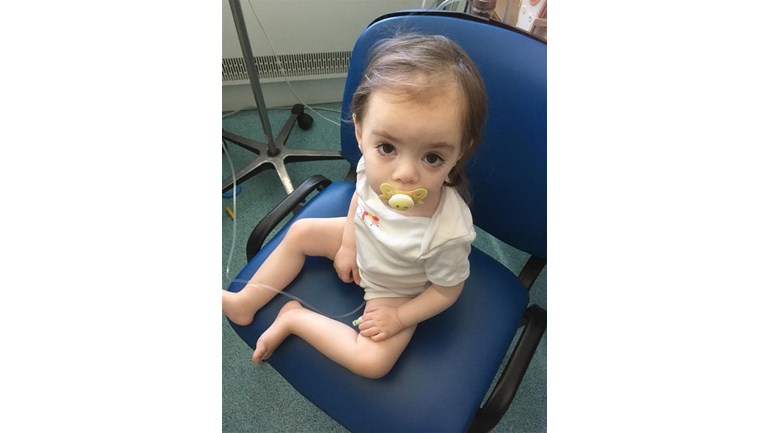 Thanks for taking the time to visit Rosie's JustGiving page.
In December 2017 we thought our prayers had been answered as Rosie was diagnosed with a very rare genetic condition called KBG Syndrome. Little did we know that this would throw up more up more questions than answers. Little did we know how rare this condition really was and how many signs Rosie was showing. We have also been told that Rosie is on the worst side of the syndrome.
Not a lot of people know what KBG Syndrome is and how every child can be effected differently some worse than others.
Unfortunately Rosie has it badly to the point her UK Drs no longer know what to do with Rosie and we have now been told that Rosie just has to learn to live like this.
This does effect Rosie's day to day life as she gets extremely worried when she is vomiting especially around other people.
: We struggle to keep her at home and she spends more time in hospital on drips to keep her hydrated.
:She is Tube fed twenty hours a day via a pump via a JG Button that is in her tummy which feeds her via her intestines with a high calorie milk to try to help her gain weight as she has poor weight gain yet another condition to this rare diagnosis.
: Rosie is very Tiny and has a small stature due to this condition once again she is three and still in six to nine month clothing and with this comes many other problems.
:Rosie also has development delay so things that a three year old following by instruction would do Rosie would find this very hard to do and therefore she is behind her peers in many aspects of her life.
: Rosie also has heart problems and was operated on at five days of age she was down for a nine hour op before she went into PICU. She was born with an interrupted aortic arch, asd and vsd. Rosie now has aortic stenosis and will need further surgery but is much to small for this at present 
After Rosie being in hospital a lot lately due to constant vomiting we had a meeting with her Local hospital Basildon and her London Consultant at the Evelina.
This conversation didn't go great and we was told Rosie would just have to live with this constant vomiting situation where she can vomit badly up to twenty times a day on a bad day.
I wouldn't and couldn't accept this for our Beautiful Rosie who is really suffering due to bringing up stomach acid which is burning her throat.
The sickness causes her to worry and panic especially around her friends and family. I am constantly worried how Rosie is going to settle back into Nursery environment.
No one should have to live like this no matter how rare a condition is.
We have found out a few bits about this rare genetic condition and what Rosie is suffering with is called Cyclic Vomiting syndrome.
There is an operation called a Fundoplication which can be performed which can stop the child vomiting but her consultant will not do this operation and hasn't really given us a good answer why this can't be done.
However there is a Professor in Germany and America who has helped a few children with cyclic Vomiting syndrome and their lives have changed  for the better so we are hoping he can help our Rosie to and even if he problems can't be resolved at least her outlook on life could be better and maybe she could return to nursery and have fun with even if she does have to carry her feed bag around 20 hours a day.
We have a charity event set up for Stay and play in Laindon on 29th June 2018 4-6pm child tickets £5 each and Adults £1.50 each. We also will be having a cake sale, Name the Teddy, How many sweets in the Jar, Lucky dip and a raffle £1 a strip which anyone online can buy and if you not at the event we will take your address and mail the prize to you. We would like thank the staff and owner for supporting our little Rosie Once again.
If you would like to help us with another event:
Maybe you have a entertainment business or have a place we could host an event, We are currently looking for a band/tribute act that would possible give us their time.
Many events in the pipeline and will list them as the events get organised
7.5% of all donations to Tree of Hope in relation to this appeal will be allocated to the general charitable purposes of Tree of Hope to cover our core operating costs.



Donating through JustGiving is simple, fast and totally secure. Your details are safe with JustGiving - they'll never sell them on or send unwanted emails. Once you donate, they'll send your money directly to the charity. So it's the most efficient way to donate - saving time and cutting costs for the charity.