Ronan's Race for Independence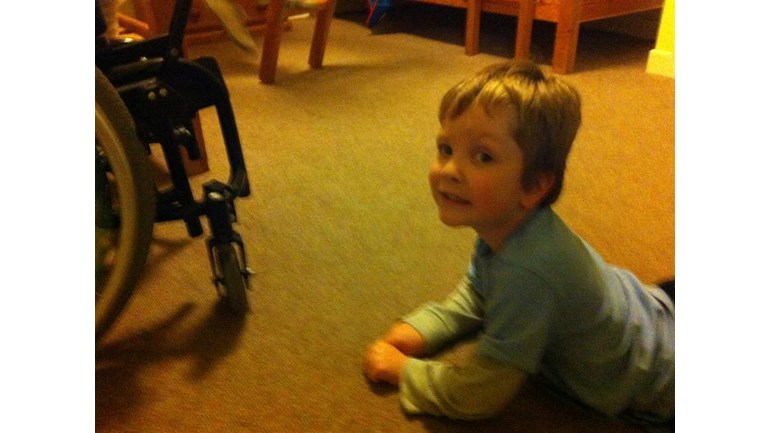 Thanks for taking the time to visit my JustGiving page.
A wee update.....we are doing great with all the fundraising and everyone has blown us away with their generosity. We never believed that we would raise the money we need to help Ronan's therapy to continue. We set a target for one year of therapy, but really Ronan needs to continue with it for as long as he can, and as long as he continues to grow he needs this therapy....so we have increased his target to allow us to access this therapy, for as long as we possibly can! He gets stronger and more independent every week....this is the best thing we could ever have done for him and his journey to independence is only possible because of all of you! Thank you one and all.
My name is Ronan, I am six and a half years old. I was born with Cerebral Palsy, this makes it very difficult for me to do the normal physical things that other kids can do. My arms and legs are stiff and sometimes my legs cross over, this makes it difficult for me to walk, crawl, stand and move from my wheelchair to another seat. My trunk is weak, this makes it difficult for me to sit and balance. I need to do lots and lots of stretching to stop my limbs stiffening more, and I need to do loads of exercises to develop stronger muscles in my tummy to help me sit up properly. I also need to learn how to balance better.
My mummy and daddy have taken me to The Peto Institute in Hungary, this is a really special place where I have made lots of friends. We do exercises, while we are in school, which is great, because I am too tired after school at home to do any more, in the evening. I have been there for 10 weeks, and during this time, I have learned to sit on a stool, for up to 30 minutes independently, sit on the toilet on my own, I can stand up and balance for 2-3 minutes using my special sticks, I can crawl better, I can nearly get from a lying position to a sitting position, with just a little help. I can pull into a standing position using aids....and I can swim without my armbands.
I would love to stay here, because my biggest wish is to be able to walk using my sticks, and I know my teachers at the Peto will help me become as independent as I can be. It costs a lot of money and my mum and dad, and me, are going to do lots of fundraising to make sure I can stay. Mum is doing a 10 k run to get the fundraising started, on 15th August....
If any of you have any ideas for a fundraiser, please go right ahead....or donate through Just Giving......
Please help me to become an independent boy...Love Ronan.
Should we exceed the target amount (or if we do not raise enough funds, or if they cannot be used for any other reason) the funds raised will go to the general funds of Tree of Hope to assist other sick children.
Donating through JustGiving is simple, fast and totally secure. Your details are safe with JustGiving – they'll never sell them on or send unwanted emails. Once you donate, they'll send your money directly to the charity. So it's the most efficient way to donate – saving time and cutting costs for the charity.