Rolling with Reuben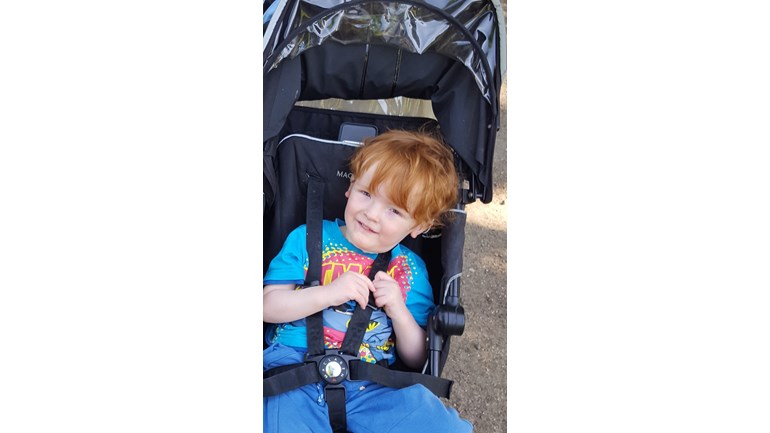 Hello my name is Reuben, I'm also known as Reu, Reu Boo, and most importantly mischief! I'll be 4 this November and I'm really hoping for a new ride on maybe a red sports car. 
My parents are hoping that I'll start taking side steps along the sofa. There is still time for me to make their wish come true but I'm going to need your help.
I've needed specialist therapies from birth and they've gotten me to where I am today but they've cost my family so much money and I really need your help to keep funding them. In order for me to strengthen my joints and muscles, and give me confidence in my
own abilities, I need to use specialist equipment with specially trained physiotherapists and this is available at the Freddie Farmer Foundation.
In April of this year I got to attend The Freddie Farmer Foundation for 2 weeks of intensive physiotherapy and within 3 days my whole family could see the difference the therapy was making to me. I had so much more energy, I wanted to sit on my bench (which is hard work on my muscles), I wanted to stand whilst my parents held me up, I was
sitting straighter, I started being able to take steps whilst my parents held onto me, and I was generally stronger and happier.
The Freddie Farmer Foundation fund-raise so that they can offer their specialist physiotherapy at as small of a cost to families as possible, but each of the 2 week session I need still costs £600. Then in order to continue progressing I need to go back to The Freddie Farmer Foundation every 2 months.
The specialist physiotherapy The Freddie Farmer Foundation offer with the equipment they use, cannot be replicated at home by my family and without it I would make much slower progress with my physical development. So in order for me to get stronger and make the
progress I desperately want to make I need to attend The Freddie Farmer Foundation.
Please support me and my journey by giving whatever you can.
Thank you for taking the time to visit my page and learn a little about me. You can check out more about me and my adventures by visiting my Facebook, Twitter, and Instagram just search for Rolling with Reuben.
7.5% of all donations to Tree of Hope in relation to this appeal will be allocated to the general charitable purposes of Tree of Hope to cover our core operating costs.

 If we raise insufficient funds, or surplus funds, then the funds will be used, if appropriate, to fund support for our child's needs in accordance with Tree of Hope's charitable objects.  If in those circumstances we are unable to use all or part of the funds for the benefit of our child in accordance with Tree of Hope's charitable objects, then any funds that cannot be used will be transferred to be used for the general charitable purposes of Tree of Hope.

 If you have any questions at all please do not hesitate to call the family
support team on 01892 535525.