Rhys's Journey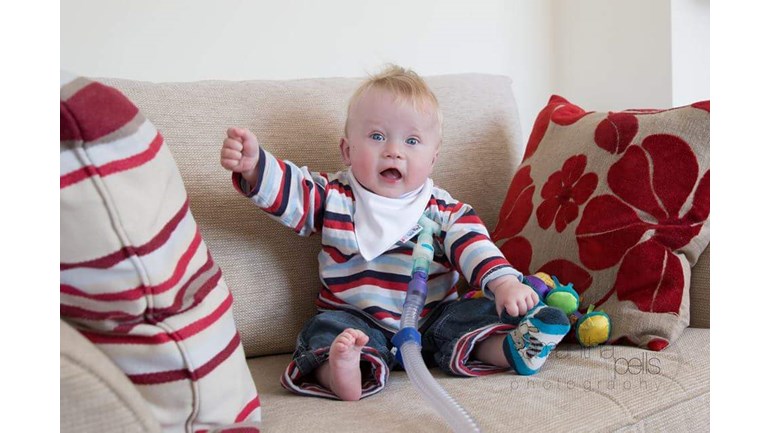 We are fundraising for a selection of therapies/equipment's that will be beneficial to Rhys' life.We are having to have some house adaptations to suits Rhys's growing needs and provide essential care to keep him safe.

Rhys was born early and for the first two weeks we thought he was perfectly normal.  Until one day he went blue, I have never seen anyone so blue and for it to be your new born son this was terrifying!
Rhys was taken to London Evelina via Eastbourne and Hastings, both of which didn't think he was going to make it.
Once at the Evelina doctors worked on him and had to intubate him and put him on to life support.  Rhys would continuously stop breathing and his heart would stop, I would stand there as if I was in a movie watching his bed become surrounded by medical professionals.  We were told Rhys would have suffered some brain damage. At 6 weeks Rhys under went heart surgery but was still struggling to breath for himself.
At this point it was decided that Rhys would have surgery to have a tracheostomy and be fitted with a portable life support.  It took 10 months to bring him home.  We had to under go extensive training along with employing and training up a care team.  Rhys would need to be watched 24/7.
Due to Rhys being intubated for so long he lost the ability to eat and drink so has got a gastrostomy and we got told he wouldn't ever eat.
In February 2015 we bought Rhys home, we had the house adapted and a downstairs bedroom added and this room was filled with medical equipment to ensure we could keep him alive.  His four carers were now trained and a door bell connected to upstairs which would be used as a crash bell.
During our first week home during the middle of the night the crash bell was rung 4 times, I seriously wondered if we were up for this life change.
Over the next few weeks Rhys started doing more and more and at this point I was reminded that I couldn't let him down.  Rhys was starting to progress like a normal little boy just with lots of breathing equipment and a feeding tube.  I started a massage technique spending hours massaging Rhys's face and neck and letting him play with food.  Rhys had his gastrostomy removed in January 2018, he is now eating and drinking.

We tried to treat Rhys like a normal little boy, taking him out on family trips, going to farms and even sending him to main stream nursery so I could return to work part time.  Last week after nearly two years Rhys has come off life support.
This doesn't mean that his needs will change he still requires 24/7 care, his trache can come out or get blocked and we have seconds to react to save his life.  Rhys also requires medical care every 90minutes along with othe rmedical procedures.  We are three machines lighter (total weight 12kgs) which has made a massive difference but when we go out we still are loaded with a mound of medical equipment.
In August Rhys will start reconstruction on his upper airways where they will use some of his rib cartilage to rebuild his airways, this could be 10 operations over the year.
We still have weekly hospital appointments and carers to pay for along with some of his 1-2-1 at pre school.
We would like to thank everyone for their support, Rhys's consultant said he believes Rhys has made such good progress because we haven't wrapped him in bubble wrap.  We have only been able to do this because he has carers, we couldn't leave the house without them and that I am not totally drained from being up all night every night.
Thank you for helping us purchase equipment, pay for carers