Reuben's Wish to Walk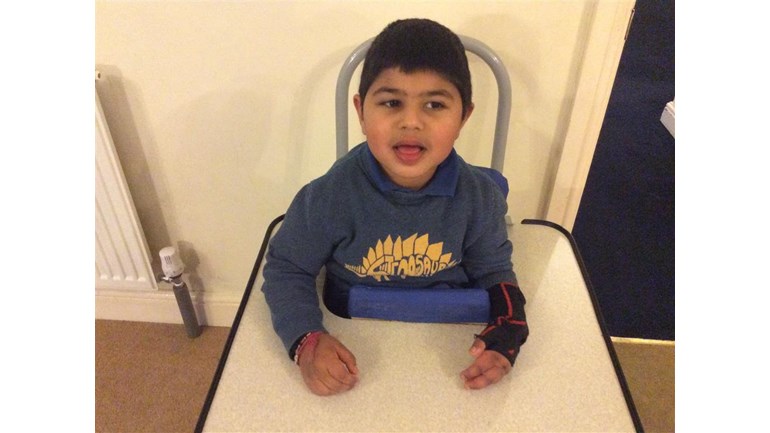 Thanks for taking the time to visit my JustGiving page.
My name is Reuben, thank you for visiting my page. I am 5 years old this will explain the start of my journey into the world.
I was born full term (40+1 weeks) after having a emergency Caesarean.  Not a very good start to life, mum was scared, stressed, worried so much was going on. I was resuscitated and limp at birth due to lack of Oxygen. Rushed into children intensive care unit, where I was treated, 12 hrs of birth I showed symptoms of Epilepsy fits, my parents where upset and worried about me, I was in good hands. i was responding well and the nurseries said that I was a fighter.. MRI scan was done on my brain at 7 days old ( results to follow)
I spent 12 days in hospital before being discharged to go home.
At nearly 2 months old we got the results back for the MRI scan I had, it wasn't good news, it felt like our hearts had been ripped out of us. I had a Right middle Cerebal Artery Stroke.
Asymmetrical Quadriplegic Cerebral Palsy affecting left side more than right, I also suffer from renal and liver impairment. what did this all mean for me? A long journey ahead a lot of love, help, care and support.
I wasn't meeting my milestones was having epilepsy fits until the age of one years old, in and out of hospital more tests been done. Mum spoke to a consultant and was referred to a children assessment unit. I wasn't sitting, crawling, babbling, interacting-with toys, just happy lying there. Mum noticed that the left hand would always be kept closed and tight, also the left leg was very tight was concerned and referred to a physio. 
Due to the Asymmetrical Cerebal Palsy I had tight hamstrings in my left leg and arm (high tone)  which unabled me to sit up or crawl. Physio started straight away and swimming helped with relaxing the tight muscles. I tried so hard to move around and never gave up. Age 1 1/2 I moved around on my back, coulndnt roll onto my stomach until 2 years old, started to sit and bottom shuffle around. Was painful. As i grew my muscles got tighter and painful. I wear Gatiors to stretch my muscles everyday. At 3 years old I had a Botox injection to relax my muscles and weekly Physio which helped for a very short period of time. Started special needs nursery at 3 years old the best decision made. 
I am 5 years old  I can't stand unaided, walk, undress myself, I have help with my speech and language, I get frustrated when I can't do things or want to do what others are doing, everyday it's a struggle for me and the family. I currently use a grillo walker which helps me to move around, I enjoy playing outside with my friends.. I do a lot of long stretch sitting, use the standing frame on a daily basis .
 It's been a stressful time for all the family with lots of ups and downs. Reuben has come along way since he was a baby, his biggest wish is to walk, climb, jump and play with his friends and cousins. 
There is a operation called Selective Dorsal Rhizotony (SDR)  which involves cutting some nerves in the spring that are holding the spasticity (tightness), which will make my legs more relaxed, this is will be life charging for me. After the surgery I will need Physio without it would not be successful.  With all your help and support the target to raise is £40k 
Reubens wish to walk 
Thank you for reading my story 
Just before my 
Donating through JustGiving is simple, fast and totally secure. Your details are safe with JustGiving - they'll never sell them on or send unwanted emails. Once you donate, they'll send your money directly to the charity. So it's the most efficient way to donate - saving time  and cutting costs for the charity.