Reece's Goal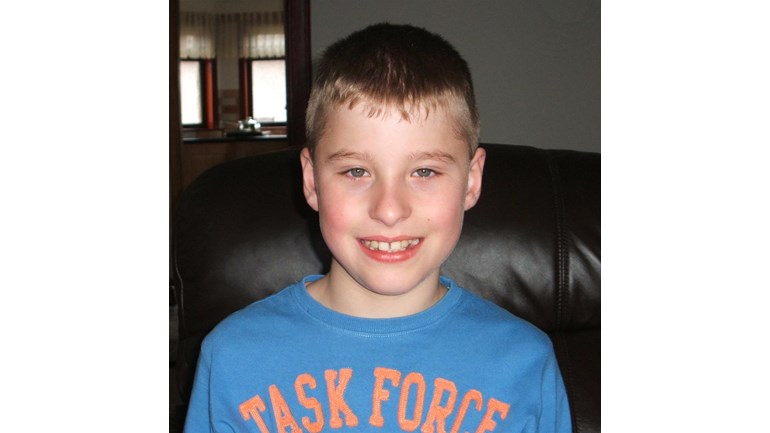 Thanks for taking the time to visit my JustGiving page.
Reece was born at 28 Weeks weighing 3lbs on Sunday 17th November 2002. He was in the Intensive Care unit for 8 weeks. This was a very worrying and emotional time for both Scott and I, as well as our families.
When Reece came home from hospital there was no talk given to us to indicate any concerns they might have on Reece's future development needs and so feel this was partly the reason why Reece didn't get diagnosed with having Spastic Diplegic Cerebral Palsy till he was 18 Months. We as parents however knew a lot sooner in his development that something was not quite right but I guess they needed to explore all avenues before making their final conclusion. It just meant we could now get on with providing Reece with the best and right care that he needed.

Description
Cerebral Palsy is a condition which takes different forms and effects every individual differently. Reece has been diagnosed with Spastic Diplegia. His muscles in both legs are very tight which causes him to walk on her tip-toes. As a result his balance is poor and he is prone to falling. 

Reece's life changed from that point forward with needing daily physio exercises, having to wear splints to support the positioning of his feet and to aid his walking. He attended Leven Child Development Centre where a group of specialised professionals particularly physiotherapists for Reece done regular sessions with him. He continued on to a Special Unit at Carleton Nursery Glenrothes offering physio support and learning through play. At 3 years Reece moved on to the Craighalbert centre in Cumbernauld right through till he started School. It was here everything changed for him for the better. Having full focus on his needs Reece learnt to walk and grew in confidence learning strategies to help him on his way. Right up to Primary 3 Reece attended Periodic placements 3 times a year on 1 week blocks for more intense physio. Today he still attends once a month for Saturday group and 1 week Summer group.

Reece lives in Kennoway, Fife with mum, dad and his little sister Millie who is 8 yrs old and came with her own worries as she too decided to come along early at 29 weeks so between them both we as a family have went through a lot. Millie is a very active child and at present no developmental needs have been found. We have been really lucky with them both considering. Millie would not let anyone hurt Reece and is quite protected over him when outside. Most of their time they do get on with each other quite well and enjoy each other's company but like most brothers and sisters have their moments too.

Being now 9 yrs of age Reece has good understanding of his condition and his limitations he has compared to his friends. He asks a lot more questions which are heart breaking as he is now becoming more negative in his outlook of things i.e. 'They are all having fun and I can't'. 'I will never win races', 'no one will play with me because I can't run fast etc', "I want to play football but can't, they put me in goals because they say I am really good at that". We just have to stay positive for him and just encourage him to take part in as much activities as we can to keep his confidence up and to help build up his strength. It's just hard hearing him talk like this. 

On the other side of that however, Reece has always had his own mind and everything he has achieved in life has came from him. He set his first goal that he would walk by himself when he was 5 yrs old. Reece took his first few steps at 5 yrs and he hasn't looked back. Although Reece is still quite unsteady and can't really control his balance that well causing him to still fall a lot, he just gets back up and gets on with it. His favourite game is 'TIG' so tends to run more than walk. Reece is a very loving and happy boy who just wants to be like all the other boys and girls and have fun.

Reece loves all types of transports e.g. cars, trains, planes, army vehicles which has lead to him taken a great interest in wanting to be a pilot for the RAF when he grows up.

Reece is involved in quite a few activities that are a mixture of ones that help with his balance/posture and strength to others for just pure pleasure. These activities include: - Swimming, Gymnastics, Horse Riding, Cooking class to Singing lessons so he does have a busy lifestyle!!!

Reece enjoys going to school and playing with his friends but now being in Primary 5 the pressure on his learning is starting to be more noticeable and tires quickly. He is also aware of his friends being aloud to do so much more than him outwith school i.e. walking home from school by themselves. 
Reece just wants to live a normal life as best as he could, do things as a normal boy his age would do as do all his family.

When we heard about an operation that could possibly help his mobility/balance, we had to look into it and one Year on we decided to have Reece assessed to see if he would be suitable for this procedure. After long discussions with Reece he is very confident that he would like to have this operation. This operation is called Selective Dorsal Rhizotomy (SDR). It is a procedure which permanently eliminates high muscle tone by cutting damaged nerves in the spine leaving the healthy ones to carry the correct signals from the brain to the muscles. 

SDR surgery will give him the opportunity to walk on his flat feet. His balance and co-ordination will be so much better and he would be able to take part in most if not all activities as his sister and friends do. 

Until recently, this procedure was only carried out at St Louis Hospital, Missouri, US, by Dr T S Park. He has worked in this field for over 20 years with a 100% success rate. At the moment, the cost of surgery in America is approximately £40,000 sterling per patient. This does not cover the intensive physio which is necessary afterwards.

Very recently, the surgery has been carried out at Frenchay Hospital in Bristol, by Dr Aquilina for children over 6 years old. Dr Aquilina worked with Dr Park in America and studied his techniques. The cost for the procedure in Bristol has been set by the hospital at around £24,000 sterling. This figure includes 3 weeks post-operative care with physio afterwards, however this is only the start of the aftercare required.

The after care that Reece will require post surgery will be 2 - 3 years of intensive physio. It is estimates that this will cost somewhere in the region of £40,000 including the purchase of some essential equiptment

This surgery is recognised as 'the way forward' by the UK's National Institute for Clinincal Excellence (NICE).

Donating through JustGiving is simple, fast and totally secure. Your details are safe with JustGiving – they'll never sell them on or send unwanted emails. Once you donate, they'll send your money directly to the charity and make sure Gift Aid is reclaimed on every eligible donation by a UK taxpayer. So it's the most efficient way to donate - I raise more, whilst saving time and cutting costs for the charity.
So please dig deep and donate now.