Our promise to Raphael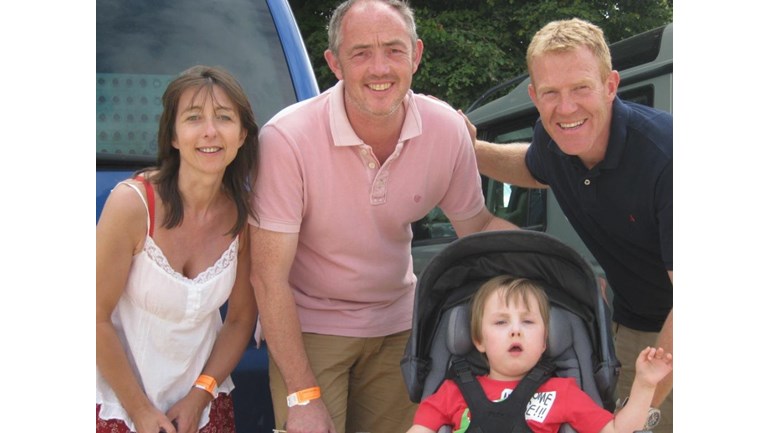 My name is Raphael and I am five years old. I was born 15 weeks too soon so I wasn't ready and this caused me to bleed in my brain and nearly die. My mummy couldn't cuddle me for two weeks and even then I was too weak to be out of my incubator for very long. 
I spent the first six months of my life in intensive care, my mummy and daddy were told twice in my first week to prepare for my funeral as I wasn't expected to live and even if I did I would have brain damage.
It was on these two occasions they sat and held my hand, watching me fight for my life in my incubator and praying for me to pull through, that
they promised me that if I made it through they would do everything they possibly could to give me the best
 life I could hope for. I fought so hard and now my mummy and Daddy are asking you to help them make my fight worthwhile  by helping them raise some money to enable me to receive special therapy and equipment to give me the best chance of reaching my full potential and achieving my dream of playing like other children and eventually being independent.


The bleed left me with severe cerebral palsy which means my muscles don't do what I want them to do and the harder I try the harder it is for me. I cannot speak, roll, crawl, stand, walk or use my hands without help but I try very hard and am gradually becoming stronger. Just because my muscles don't work doesn't mean I do not understand, I understand when people talk to me and giggle and laugh just like any other child.  I cannot play like other children but inside am like every other little boy my age and love to ride my specialised trike, swim and go horseriding with specially trained people, and I love playing on computers even though I cannot do it for myself. I love tractors, diggers, throwing stones in water and lots of rough and tumble. I also love having stories read to me, especially Thomas the Tank engine and In the Night Garden.  
During my time in hospital I had many painful procedures without any pain relief, including repeated lumbar punctures to release pressure on my brain. I had brain surgery at two weeks old to prevent my brain from swelling and the brain damage from becoming worse. I had daily apnoeas where I would stop breathing and had to have emergency resuscitation. My mummy had to pump breast milk for me and feed me through a tube as I couldn't cope with breathing and swallowing together. I also suffered a broken hip which was unrecognised and left me in severe pain for weeks, this has left me with lasting problems in my leg as I can no longer straighten it and it is now much shorter then the other which affects my ability to weightbear in my standing aid, the only way to prevent my hip dislocating. This will mean more painful surgery in the future.
My life consists of regular appointments to doctors and therapists, and daily therapy and exercises which can sometimes be painful. My life can also be a little restricted because mummy and Daddy find it hard taking me out as much as Id like now I am bigger and my buggy is not easy to access everywhere,
I receive physio on the NHS but nowhere near enough and there are therapies and equipment available that would assist me to develop much further, improving my mobility, quality of life and therefore my life expectancy, and increase my chance of independence whilst also having fun. 
These include: 
Hydrotherapy which is the only opportunity I have to relax my muscles as the warmth and bouyancy decrease the painful spasms I live with every day. It also builds strength in my limbs and improves my balance and coordination. This will cost £1200 for weekly sessions term time over three years. This will be for access to a hydrotherapy pool, therapist input would cost more.
£10 pays for a half hour use of the pool.
Hippotherapy which is physio on a horse. Horseriding is one of the best activities to help balance and coordination of muscles, together with a stretch of the leg muscles which is extremely important to keep my legs from developing painful contractures. This therapy has also been found to assist speech development and since starting therapy I have begun to make different vocalisations and am trying to talk. I am already developing better balance and coordination. I love riding as it is one of the only times I get to experience movement like walking and running. We need help for me to be able to continue this. This will cost £3300 for three years of weekly sessions.  
£25 pays for a session of hippotherapy.
Private Intensive physiotherapy. This costs £60 session 
Anat Baniel Method - this therapy aims to work with the natural development of a child's brain, maximising the brains potential to heal itself and so giving me the best chance of normal development. There are stories of outstanding success with children like me which would not normally be achievable with conventional methods of therapy. It would also help me to control my spasms and recognise when I make improper movements which impact on my development.  This will cost £80 each session and requires regular blocks of sessions monthly for maximum benefit. 
Scotson technique - This works on teaching my body to breathe properly which in turn will strengthen my core muscles and so give me the potential to sit, stand, talk and move independently. This will cost £3600 for twice yearly visits over three years. 
We need help for me to be able to continue with these therapies.
Equipment
The most urgent item we need is an EyeGaze system which would enable me to use my eyes to play on a computer and whilst doing so learn the skills required to eventually communicate and receive an education as this may be my only way and may also be the only way I have control over my life.
EyeGaze Update
We have managed to raise enough for the hardware. We now need software which would provide games and entertainment compatible with EyeGaze. Our target is to raise £1000 for this because I will soon be having to give back the system I have on loan which has games installed and it is the only way I can play by myself.
Powered wheelchair - I currently use a toddler size power wheelchair but am only just learning how to use the joystick to control it and need lots more practice. Unfortunately this one is becoming too small for me and I will soon have to give it back as it is only on loan, The NHS will not provide one for me until I can control it properly. I will never be able to continue learning to use one unless I have one, and the chairs they would provide are too heavy for mummy and daddy to lift into the car and can only be used inside which is not where I want to be.
Please give me the opportunity to learn to use a powered chair to increase my independence and give me some mobility by helping us purchase a 'Tiny Trax' which is specially made for children my age and older, easier to use and can be used outside and in all terrain. This costs £6500
Race runner bike - this is something I can run around in and even take part in races. It will support me while I use my legs to move the wheels., enabling me to go fast which I love. It will give me an opportunity to compete in sports and keep me active whilst strengthening my legs and trunk, and giving me some independence. This costs £2000
Please help my Mummy and daddy to fulfil their promise to me.
Should we exceed the target amount (or if we do not raise enough funds, or if they cannot be used for any other reason) the funds raised will go to the general funds of Tree of Hope to assist other sick children.