Ralph's Recovery!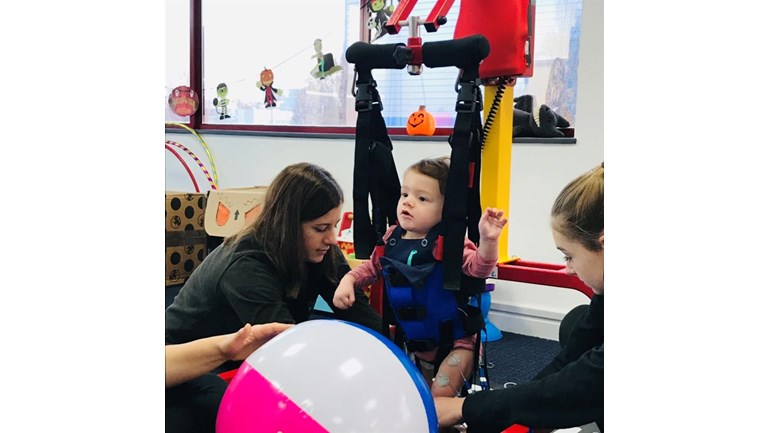 Ralphs story:
Eight hours after birth Ralph crashed and had to be resuscitated. Bruises covered his head and the majority of his body, he was put on a ventilator and in an induced coma. The cause is still unknown but it has left him with brain damage and paralysis below his waist (T12). 

As the weeks went on we saw movement in his little toes, on sharing this with the experts, the response was that we were "parents who out of desperation were seeing things that weren't there" We knew we weren't mad, so we kept watching and continued to see the movement. This gave us HOPE and a determination to research other options. This hope took us to a private rehabilitation centre called Neurokinex, birthed in the USA, that believes (contrary to NHS belief) that the spinal cord can be recovered with specific rehabilitation. 

One year on, through this therapy Ralph has regained a little sensory, he has recovered some movement in his hips and his knees, he can crawl like a caterpillar and can momentarily sit up  - we were told that none of the above would ever be possible. BUT IT WAS! And we believe there is more for him!

Reality for him and us is this - with the current treatment he won't ever walk, he can't put any weight on his legs, his lower bones aren't growing at the usual rate, his lower muscles are barely there, his hips are contorted at an angle and cannot fully flex, he sleeps in a system, he wears a back brace and spends time in a standing frame each day in order to get the blood to the lower part of his body. From what we can gather from other parents with children with spinal cord injuries, we are at the easier stage. 

A note, paralysis doesn't just affect the ability to walk. Everything below Ralph's mid torso is affected - inside and outside the body. For his dignity this doesn't need to be spelled out but as you can imagine a life time management, frustrations, infections, illnesses and disappointments lie ahead for our little boy.



Over the next few years Ralph will need additional specialist rehabilitation, equipment and therapy that the state can't offer him. Here is what Ralph is currently doing and what we hope to do:
- Neurokinex Kids - twice weekly therapy (ongoing)
- Locomotor Training (January 2019):
A research study has been conducted at Frazier Rehab Institute, Louisville, USA. This study has proven that through 80 sessions of a specific activity-based locomotor training 100% FULL recovery of the trunk (torso) can be attained. The therapy activates deconditioned muscles and motor pathways below the injury. For Ralph this treatment is the difference between having independence or not. It will enable him to sit unaided, it will deter the onset scoliosis he is currently gaining, it would remove the lifetime wearing of a back brace and it will gain him more mobility (moving from a caterpillar to a human crawl - think of Ralph as an adult, that difference is huge). The recovery of the pathways will also have a positive impact on the internal consequences of Ralph's injury, offering him the opportunity for a far greater and healthier future. New and futuristic technologies for spinal cord injuries require the spinal pathways to be alive, only by reactivating these pathways can Ralph be a candidate. 

The cost of 80 sessions of activity-based locomotor training at Neurokinex Kids is a staggering £10,000 - it's a huge price, totally worth it but one that we can't bear alone.

We want to give Ralph this chance, this opportunity and the hope for his future. Its not enough to maintain and measure his decline - we believe in a hope and a promise that his story doesn't end here and we'd love for you to join us in believing that too.



Some of those that love Ralph, will be undertaking fundraising events to raise money for this programme. We thank you from the bottom of our hearts for any donation that you can give - it means so much to us and, of course, to Ralph. 

Mark and India xx



7.5% of all donations to Tree of Hope in relation to this appeal will be allocated to the general charitable purposes of Tree of Hope to cover our core operating costs.


If we raise insufficient funds, or surplus funds, then the funds will be used, if appropriate, to fund support for our child's needs in accordance with Tree of Hope's charitable objects.  If in those circumstances we are unable to use all or part of the funds for the benefit of our child in accordance with Tree of Hope's charitable objectives, then any funds that cannot be used will be transferred to be used for the general charitable purposes of Tree of Hope.