Raising for Raife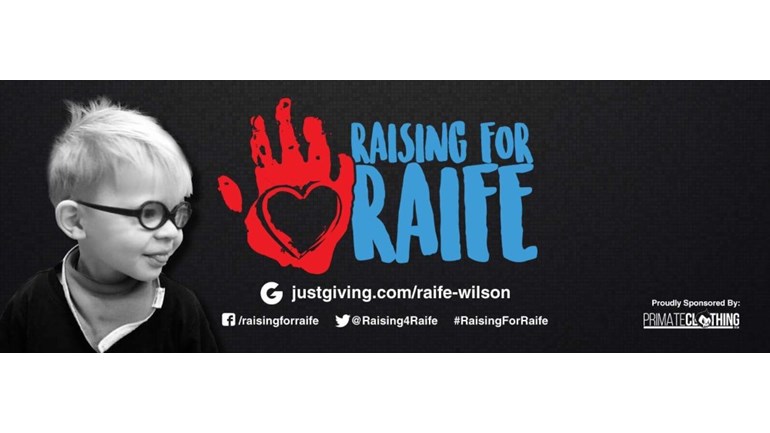 Our story:


Immediately after birth, we knew that something wasn't quite right. Raife took a while to breathe on his own, his skin was blotchy and red/purple in colour.

After investigations post birth, we found that Raife only had platelets of 8! This meant our beautiful little man was whisked away to intensive care needing special care and transfusions. An MRI scan determined a parents worst nightmare- he had lost the majority of his right temporal lobe due to a significant bleed to the brain as a result of his lack of platelets. Even worse, we then found out that the bleed was due to a rare disorder that we as parents have called NAIT (neonatal alloimmune thrombocytopenia) whilst in utero, my body was attacking his platelets a very rare and dangerous blood disorder. 

We had gone from being elated, cuddling our new bundle of joy, to our whole world being torn apart. The consultants were confused, it was so rare that nobody knew what was happening and what do do. Our hearts were filled with sadness and uncertainty. 

Our strong little man pulled through, and has continued to make us proud everyday. Despite his injuries causing cerebral palsy, he has learnt to walk before the age of 2. He is the happiest little man and makes us laugh daily! His determination is admirable.

Now it's time for us to make life easier for Raife. . . . . 

Selective dorsal rhizotomy (SDR) is an operation used to improve spasticity (muscle stiffness) in cerebral palsy. Cerebral palsy occurs when a child sustains a brain injury early in life. Although the brain injury is static, the difficulties it causes change continuously  as he grows. Spasticity causes pain, shortening of muscles and tendons, joint contractures and bone deformities. 

Nerve fibres running from the muscles back to the spinal cord play a major role in maintaining muscle stiffness. SDR, by dividing some of these fibres, is effective at significantly reducing stiffness and spasticity. 

THIS OPERATION WOULD GIVE RAIFE THE CHANCE TO LEAD AN INDEPENDENT LIFE- STANDING TALL, PLAYING SPORTS AND RUNNING AROUND WITH HIS FRIENDS. 

Thank you so much for your time to read about Raifes campaign. Any contributions as small as they may be would be so greatly recieved. We have a long way to go to get to our £45,000 target. Watch this space for lots of events to come!

45,000 will include the procedure at Bristol Children's hospital- as well as post operative Physio and equipment needed for after the surgery.





Donating through JustGiving is simple, fast and totally secure.