We are raising funds to help Pippa Fight EB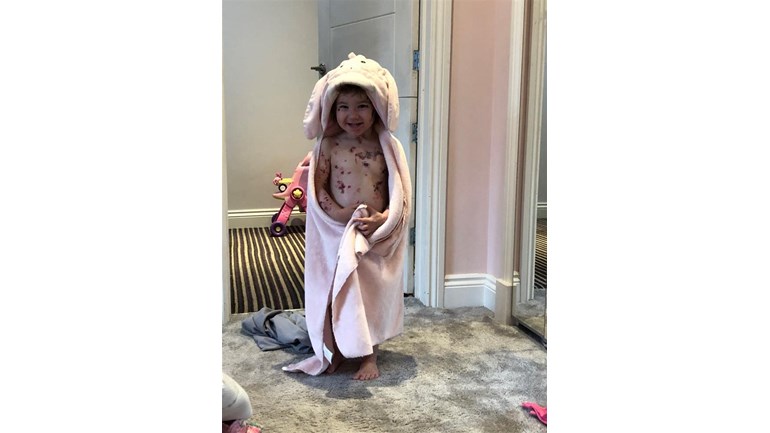 Please Help Pippa fight EB #pleasehelppippaOur beautiful baby girl, Pippa Atkinson arrived in July 2016. One year on, we are overwhelmed by the strength and tenacity of one little girl fighting a truly horrible skin condition that you've most likely never heard of.

When she was born, Pippa was missing 90% of the skin on her hands and feet. My husband Damian and I were told that she had an incurable disease, Epidermolysis Bullosa (EB).

We are asking for your help to raise funds for life changing medical equipment. Pippa is amazing; she fights EB every day and will continue to do so for the rest of her life. Please help Pip with her daily battle.

Pippa's Daily Battle

Everyday Pippa undergoes a full dressing change lasting from an hour to three hours. All her blisters have to be lanced and drained. Her dry skin and scabs have to be removed and her skin smothered in different moisturiser and healing balms. 

Throughout the day any large blisters that form need to be lanced. Pippa gets 60-100 blisters a day all over her body, inside her mouth and ears. Her nappies have to be lined to stop them rubbing and numerous creams applied in an attempt to reduce friction.


Pippa is very prone to skin infections. She is fighting staphylococcal A and Strep G for the second time this year, both are serious infections which have to be detected and treated quickly. Pippa's bath will help to reduce her risk of infection. 

About Pippa's conditionWe, like so many others, we had never heard of this condition before. Epidermolysis Bullosa is listed in the top 10 most painful conditions on earth. It's a random genetic fault that affects every aspect of every day. From wearing a nappy, eating, wearing clothes even drinking is effected by EB. EB is a group of genetic skin conditions that cause the skin to blister and tear at the slightest touch.

Those born with EB have skin so fragile they are called 'butterfly children" their skin is quite simply as fragile as the wing of a butterfly.

Beginning life as a Butterfly ChildPip spent the first 23 days of her life in the Special Care Baby Unit (SCBU). We thought that the beginning of Pippa's life would be spent at home in South Wales with her brother, her close relatives, and us. Instead, she was kept under close observation at Great Ormond Street hospital, whilst we learnt to lance her blisters, dress her wounds and handle her without causing further damage to skin.

When she came home we were unable to hold or cuddle her. We could only handle her with oils on our hands to prevent friction and she spent most of her time on a pillow.

One year onEvery day we face new obstacles. For months she could only wear her clothes inside out, as the seams caused her to blister. Now, her clothes have to be flat seamed specialist made or adapted so that the fabric doesn't break her delicate skin.

As she grows, and develops the urges to crawl and walk, her hands, knees and feet constantly have to be bandaged. The more she moves the more blisters develop but Pippa is just like any child her age keen to explore the world around her. 

Bathing and dressing changes are becoming more difficult as Pippa is outgrowing her current facilities. As she is now much bigger moving her safely from the bath into her bedroom to start the dressing change is becoming a challenge. She is starting to understand the routine which is making her anxious, spending time in her bedroom isn't a pleasant experience for Pippa. 

To cope with the pain Pippa takes daily morphine, 6 hourly Paracetamol and on bad days sedatives.

HopeThere is no known cure for EB. However, American doctors have identified hydrotherapy as an effective treatment.

Microsilk is a specialist bath available in the US. It injects micro air bubbles into the water, which gently exfoliate the skin to remove dead skin and scabs, breaking the EB blister scab cycle.

This is the only form of treatment available for EB, and will be vitally important to Pippa as she grows and learns to manage her condition independently. Unfortunately, neither the NHS, nor the council are able fund the cost of Microsilk.

We are looking to build a one-bedroom extension with specialist bathing and changing facilities for Pippa. This will enable her to have a private area to complete her daily dressing changes set up specifically to her needs, reducing stress and allowing her a relaxing space to soothe her skin.
Pippa's extension will provide her will air conditioning to maintain a cool temperature, . Bathroom including a specialist bath, custom changing table, medication storage and the normal bathroom facilities including antibacterial tiles and flooring.
Throughout the house flooring will be changed to a completely smooth resin floor reducing friction and being antibacterial.
In consideration of Pippa potentially needing a wheel chair we are widening doors and removing internal walls which will allow her to have full access to the house, to accommodate to this our kitchen will be extended and changed into an open plan kitchen dinner. The new kitchen will have completely push to open draws to avoid handles blistering Pippa's fingers or giving her something to bump into.
The new smart home electrical system will mean Pippa doesn't have to use switches which would blister her fingers. Her blind will be controlled remotely if the sun is coming in and she will have an alarm system to alert us when she needs help. The cost of the system is expensive but again means so much to Pippa's quality of life.
Total cost to build Pippa's extension and adapt the rest of the property is in excess of 60000. In addition to the funds raised we are using every penny of our savings to making this right for Pippa but have nowhere near that amount!

There is much further work needed to our property to make it safe and comfortable for Pippa. The extension with her bathing facilities is priority but if enough funds are raised they will be used to adapt the rest of the property to match Pippa's needs. 
We will be landscaping the garden allowing Pippa and Tomos to use the areas all year round. Building a shed/summer house to allow Pippa to have shade in the garden and brick walls for low maintenance. Astro turf is being used to provide a safe area for Pippa to play. The drive will be reserfaced to allow wheelchair access for Pippa. 
We will continue to raise funds for Pip to have a wheelchair which will allow her independence when her feet hurt too badly for her to walk. 
Funds continued to be raised will help with Pippas ongoing medical care, trips to GOSH which cost us around £3000 per year!
Thank youWe appreciate you taking the time to read Pippa/s story. Your support is hugely appreciated.




7.5% of all donations to Tree of Hope in relation to this appeal will be allocated to the general charitable purposes of Tree of Hope to cover our core operating costs. 

If we raise insufficient funds, or surplus funds, the funds will be used, if appropriate, to fund support for our child's needs in accordance with Tree of Hope's charitable objects. If in those circumstances we are unable to use all or part of the funds for the benefit of our child in accordance with Tree of Hope's charitable objects, then any funds that cannot be used will be transferred to be used for the general charitable purposed of Tree Of Hope