Oscar's Journey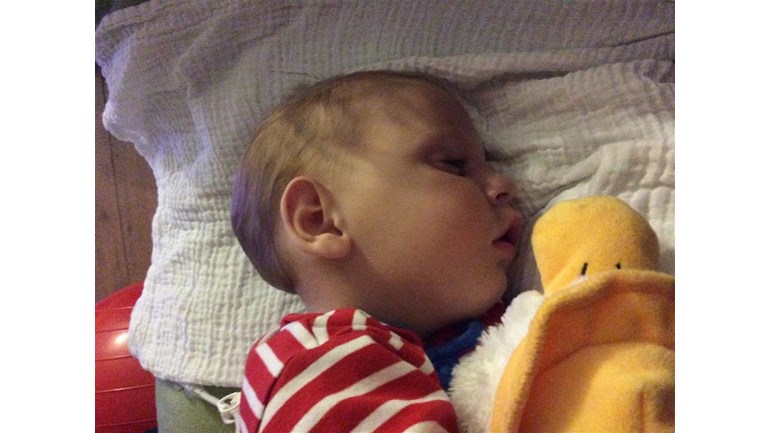 Our beautiful son, Oscar Roger Griffiths, was born on 11th October in 2013 in Wickford, Essex. Despite a perfectly normal pregnancy, there were complications during his birth and Oscar suffered severe lack of oxygen to the brain and required resuscitation following an emergency Caesarean. Oscar was placed on life support for the first 5 days of his life and transferred to a specialist neo natal unit which provided cooling treatment for 72 hours to limit the extent of his brain damage.
During this time Oscar showed no sign of life. He had no reflexes and his EEG showed almost no brain activity. He had never even opened his eyes. After being told by our doctor we were 'prolonging his suffering', myself and Paul made the heart breaking decision to allow doctors to remove our son's life support.
We ran into a private room with Oscar wrapped in a blanket and cuddled him in what we believed were to be his final moments. We told Oscar how much we loved him and cried as we said our goodbyes. To our astonishment and delight, Oscar kept on breathing all on his own with the occasional gasp and coo. We waited one hour and then two before bringing in our family who sat with us and Oscar in that little cold room all night making sure he continued to breath. Come morning, it was clear that Oscar fully intended to live his life and we will never give up on him again.
Nothing is ever easy for Oscar and although he is now approaching his third birthday, the extent of his brain damage literally affects all aspects of his life. Initially, just learning to breathe more fluidly was a struggle but regular visits to the Advance centre, learning the Scotson Technique, a series of daily exercises to help strengthen the diaphragm and trunk have resulted in a much stronger pattern of breathing, and improved posture. The exercises are regularly reviewed and developed to continue the progress he has made and the support that Linda Scotson has given us in terms of dietary advice, symptom management, etc has been invaluable. Everytime we visit the Advance centre it costs circa £500 for updated excersizes.
As well as Scotson, the money raised so far has gone towards a variety of therapies or treatments which have all helped Oscar to develop his strength and his overall awareness. He has had regular trips to the chiropractor costing £35 a visit and is helping with posture and general comfort. Every week he has Cranial-Sacral massage therapy costing £40. Oscar enjoys a wonderful relationship with his therapist and the therapy has hugely helped Oscar both physically and emotionally. We also have weekly trips to London for a very physical session called CME costing £35. Since April this therapy has made huge changes to Oscar's core strength and every week we are amazed with this progress. Oscar really enjoys our weekly visits to the London Centre for Children with Cerebral Palsy where his therapists use Conductive Education to help him learn the processes of rolling over, sitting, standing and even walking. He needs lots of support to do all this, but we are learning together and continue the exercises at home. Up until now these sessions have been free but as of October will cost £60 per week. In addition to this and because Oscar enjoys the sessions so much we also have a private conductive educator come to our home as regularly as possible for private sessions costing £120 per visit.
Oscar has made such progress that he now is able to play with us in his UPSEE him so that he can experience of the joy of walking upright this specialist equipment was purchased with the funds raised for Oscar.
Thanks to the fundraising efforts of friends and family we have been lucky enough to take Oscar to Panama twice now for stem cell treatment. The procedure is not currently available to treat Cerebral Palsy in this country, but we have seen the benefits for ourselves in how Oscar has responded both cognitively and physically. Treatment for Stem Cell Therapy cost $15,600 not including flights and accommodation. It is an extremely expensive process but one we feel is also priceless for Oscar. We hope to be able to travel to Panama every year to help boast Oscars progression.
Next year we would love to be able to take Oscar to Los Angeles for an intensive course of physiotherapy over a three or four week period with the NAPA organisation. We were able to sample a brief taste of how effective this treatment would be when some of the company came over to this country for a week at the end of May. We stayed in Liverpool and Oscar's wonderful care team took it in turns to travel up to look after him overnight for a few days at a time. Therapy with NAPA costs between $7500 - $8500 depending on the therapy programme chosen. Visiting NAPA would enable us to experience concentrated speech therapy and possibly the neuro muscular electronic stimulation to strengthen the swallow and suck muscles. Learning to swallow would mean that Oscar should no longer need suctioning. Ideally, we would like to make another trip for stem cell treatment, and follow this with the NAPA visit. The commitment would be huge in terms of physical demands as Oscar needs 24hr care. However, the rewards could be life changing.
Whilst the NHS meet Oscar's medical needs with support from hospital staff when needed, home visits from our very caring OT and Physio, regular meetings with community doctor and care team etc, there just isn't the funding available to explore ways to develop Oscar to his full potential. Without the support of friends and family we would not be able to attempt half of the things that we have experienced so far. Thank you so much for the interest you have shown in reading this and if you feel able to contribute to our fund-raising efforts it will be very much appreciated.
Every day with Oscar is a blessing and we are determined to do our best to help him progress in life. Any funds raised will help Tree of Hope provide the treatment Oscar needs to achieve this.