Oscar Patrick Gabriel Belcher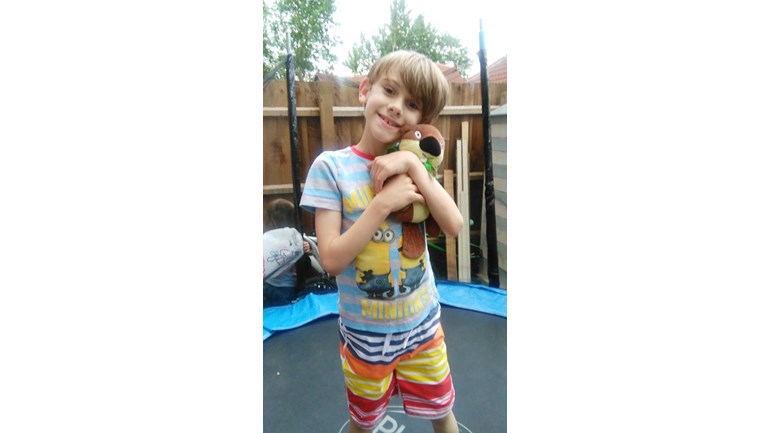 About Oscar and our Fundraising Charity supporting us to fundraise for our Autistic son's needs.
Oscar is our happy nine year old son with very complex needs
due to him being Autistic.
At 10 weeks of age Oscar developed Haemophilus Influenzae Bacterial Meningitis, where he spent two weeks in hospital.  Following the Meningitis and despite health checks throughout his life Oscar has developed other problems. In 2015 after 3 years of monitoring under paediatric care and assessments, Oscar was eventually diagnosed with Autism which may have been exacerbated by the Meningitis he experienced as a baby.
He suffers from night terrors and although now less frequent, he often suffers terribly from anxiety and finds it very hard to get to sleep. Oscar is incontinent and struggles physiologically with toileting,
which as he is getting older, is effecting his self-esteem. Oscar often
suffers melt-downs on a daily basis where he gets overwhelmed by certain things within his surrounding environments, such as over stimulation from loud noises, certain smells, sense of touch. He struggles with social interaction and can have trouble making and maintaining friendships, as well as understanding where boundaries lie within any interactions he encounters - he is also home schooled half of the time to help him deal with his levels of anxiety.
Throughout all of Oscar's life, we have done the best to ensure his needs are met at home and at school, as well as any other area's he encounters along his life's journey. As Oscar gets older, his care needs are getting more difficult to manage, especially when his physical and mental needs are at their worst, so we are now needing to fundraise for things to help make life better for Oscar, which includes:
* A sensory room, to include sensory equipment so he can play freely when feeling anxious or overwhelmed.
* Therapies that could help reduce behavioural issues, such as play or sand play therapy.
* Complimentary Therapies, Hydrotherapy and Cranial Osteopathy that could reduce or eliminate sleep / night terrors.
* House adaptions to help ensure Oscar's safety and daily needs.
Thank you for reading Oscar's fundraising page, any donation
large or small will make a tremendous difference to Oscar's life. Kindest Regards The Belcher Family. 
Tree of Hope are a fundraising charity who support children's healthcare needs. They help children with a disability or illness by supporting their families to raise funds for specialist care, therapy, treatments, equipment, house adaptions, sensory gardens and operations.
7.5% of all donations to Tree of Hope in relation to this appeal will be allocated to the general charitable purposes of Tree of Hope to cover our core operating costs.
If we raise insufficient or surplus funds, then the funds will be used, if appropriate, to fund support for our child's needs in accordance with Tree of Hope's charitable objects. If in those circumstances we are unable to use all or part of the funds for the benefit of our child in accordance with Tree of Hope's charitable objects, then any funds that cannot be used will be transferred to be used for the general charitable purposes of Tree of Hope.