Little Red Wheelchair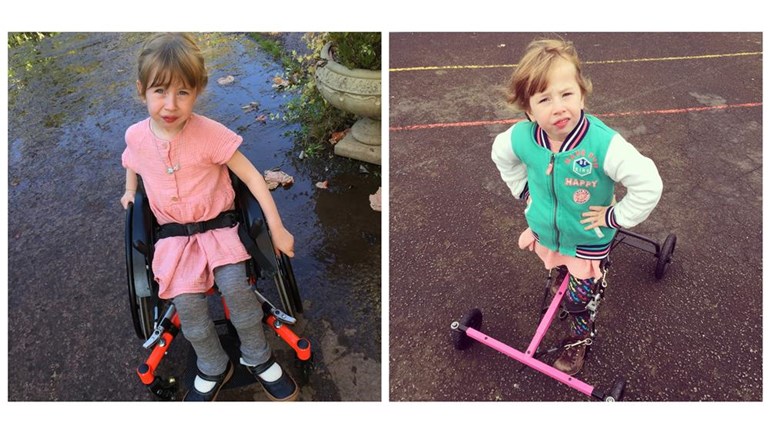 Thank you for visiting Oona's page. Oona is a bright, loving and fearless six year old girl with a complex neurological condition. She was born with incredible drive to overcome her challenges and live her life to its fullest.
We are looking for support to provide Oona with:
1. Splints and adapted shoes. These enable her to keep making progress with her walking, and need remade as Oona grows.
2. Adaptations to our home to give Oona greater independence. 
3. Ongoing access to intensive physical therapy, including hydrotherapy, which has been particularly helpful for her. 

4. A second skin lycra suit to further help her with her ambition to walk unaided. 
Oona's condition went unnoticed till the day she was born, when she arrived with severe deformities in both her feet, with dislocated hips, and with no movement in her legs or her jaw. Unable to open her mouth or swallow, she was fed by tube and ventilated, and spent ten weeks in NICU. We were told to expect her to be unable to walk, talk, eat or 'form thoughts'. 
Six years later, with the love of her family and friends, and many hours of therapy, many bone surgeries and heaps of encouragement, Oona is attending a mainstream school and loves reading, singing and role play. She is a sociable, chatty, intelligent and very kind little girl, who longs to be just like her friends. 
Oona's progress has been remarkable, but her condition still affects almost every aspect of her daily life. She is an active wheelchair user, and although she no longer needs a feeding tube, she is still unable to chew her food, so has a restricted diet. Her hands are also not as strong as other children's and she struggles to speak quickly and as clearly as other children. 
Most of all Oona wishes that she could walk. Since she was a very young baby she has shown incredible dedication to try and achieve this. Despite ten surgeries on her legs and feet, and over a year spent with both legs in plaster from her toes to her armpits, and ongoing bracing at night, time and time again she has regained her strength and pushed herself to her limits. Her determination continues to pay off, and we see improvements with each year that passes. She throws herself wholeheartedly into any therapies she is given an opportunity to try.
In 2019 when she was five years old, parts of Oona's feet and ham strings became active for the first time. These were parts of her body that we and her therapists and doctors believed to be permanently paralysed. We watched her toes wiggling for the first time, something we thought we would never see. Oona made a video showing the world her wiggling toes and explaining what she could do. 
With your support Oona can achieve her dream of more independence and greater mobility. Last year, a specialist pair of splints and adapted shoes enabled her to stand for the first time without holding onto anything. Within days of getting the splints and shoes she could not only stand unaided, she could do it while clapping and singing. She went to school so excited to show her classmates. We are now helping her move towards her next goal, which is to be able to use her walking frame more when out and about, to develop the skills she needs to use walking sticks, and to gradually gain better balance and strength for independent steps.
The joy on Oona's face each time she achieves something new, and the pride feels with each step, is something we would love to share with you. 
A fun video of Oona is available here: https://youtu.be/tECqqzg3kgQ and you will find more on Oona's Facebook page @littleredwheelchair
7.5% of all donations to Tree of Hope in relation to this appeal will be allocated to the general charitable purposes of Tree of Hope to cover our core operating costs.

If we raise insufficient funds, or surplus funds, then the funds will be used, if appropriate, to fund support for our child's needs in accordance with Tree of Hope's charitable objects.  If in those circumstances we are unable to use all or part of the funds for the benefit of our child in accordance with Tree of Hope's charitable objectives, then any funds that cannot be used will be transferred to be used for the general charitable purposes of Tree of Hope.