Olivia Lugani - "A girl in a Billion"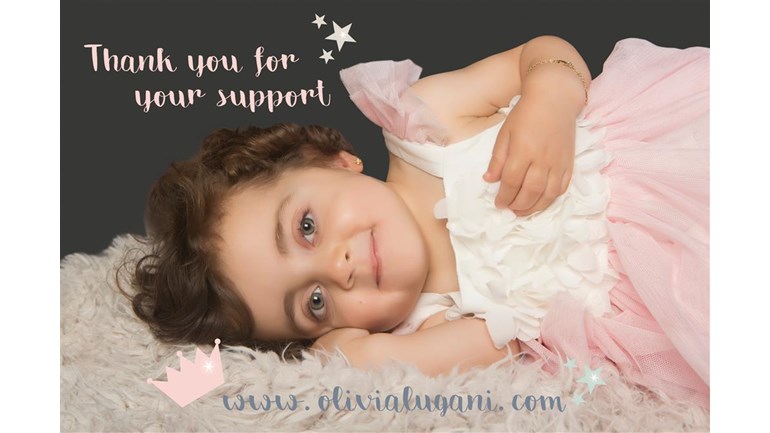 Tree of Hope Charity is helping to raise funds for Olivia's medical needs and essential equipment. We are pursuing a time-sensitive, costly treatment plan from consultants at Necker Hospital in France and The Paley Institute in Florida, USA, which must be funded out of pocket. Olivia also needs self-funded physiotherapy equipment, a specially-designed trike to manoeuvre around the house, a vehicle hoist, and several bathroom adaptations; all of which will offer her the best quality of life.  We have a difficult journey ahead and all of your contributions will make a difference. 
Olivia was clinically diagnosed in January 2013 with an extremely rare genetic form of dwarfism called Goldblatt Syndrome (aka Odontochondrodysplasia/ Spondylometaphyseal dysplasia). After thorough investigations by American, Swiss, French and British doctors, they still not been able to diagnose her molecularly.  Only 18 other children have been diagnosed with Goldblatt Syndrome world-wide. 
Olivia is 6 years old and suffers from muscular and joint pain and is unable to walk independently. Due to her condition, Olivia has a severely curved spine and neck (C1/C2) instability. To ensure her safety, doctors are trying to find a solution to stabilise her neck and spine, while weighing the pros/cons of pursuing an invasive procedure on a small-boned body.  Currently, our next steps are uncertain, as they are unsure if she can withstand surgery. We must entrust her doctors to try to offer us the best long-term solution for Olivia.  
We live each day, day-by-day. Due to the rareness of Goldblatt Syndrome, Olivia's future is uncertain. We know it is a life-limiting condition, therefore, it is imperative that we offer Olivia all the support she needs and the best quality of life. 
The disease does not allow Olivia's muscle strength to develop, and her severe spinal curvature and weight of her head on her 67cm sized body, cause her to be unbalanced, therefore she cannot walk and suffers from pain everyday.  
We are trying to raise essential funds to enhance the world around Olivia and offer her more independence. By funding these adaptations, such as a hoist system, computer technology, a specially-designed toilet system and shower room, she will have the required facilities for her long-term needs. 
As Olivia's condition is so rare, the burden of care must fall on her parents to pay for expensive, privately-funded, bespoke-made medical equipment, treatment, and costly adaptations. 
Please DONATE today to support Olivia's needs. 
Your donation to this campaign will solely benefit Olivia, no one else. She would greatly appreciate your contributions towards essential equipment. We have compiled a list of equipment to help her reach her full potential, just like any other child. 
- Specially designed orthopaedic corset to limit further spinal curvature: £4,000
- Respiratory equipment: £1,000
- Physiotherapy equipment: £4,700

- Wheelchair platform hoist: £5,000

- Specially-made toilet system: £4,600
- Specially-made tricycle: £1,900
PLEASE REGISTER on Olivia's website www.olivialugani.com to follow her progress. Befriend her on Instagram (@agirlinabillion), twitter (@olivialugani) and Facebook (Olivia Lugani).
Thank you for your continued love and support on our journey. 
GBP Bank transfers:
Account Name: Tree of Hope
Bank: Metro Bank
Sort code: 23-05-80
Account: 21862665
Reference 'Olivia Lugani'
Bank Transfers for International Donors:
ACCOUNT NUMBER: 401014 31498045
ACCOUNT HOLDER: Tree Of Hope
ADDRESS: Salford House, Salford Terrace, 19-21 Quarry Hill Road, Tonbridge, Kent, TN9 2RN
IBAN: GB27MIDL40101431498045
SWIFT/BIC CODE: MIDLGB22
BANK: Metro Bank
BANK ADDRESS: One Southampton Row, London, WC1 5HA
GBP Cheques can be sent directly to Tree of Hope for the benefit of OLIVIA LUGANI. We will list your donation as an 'offline donation'. Postal address: Salford House, Salford Terrace, 19-21 Quarry Hill Road, Tonbridge TN9 2RN

NB: Donating through JustGiving is simple, fast and totally secure. Your details are safe with JustGiving – they'll never sell them on or send unwanted emails. Once you donate, they'll send your money directly to Olivia