Send Oli to St. Louis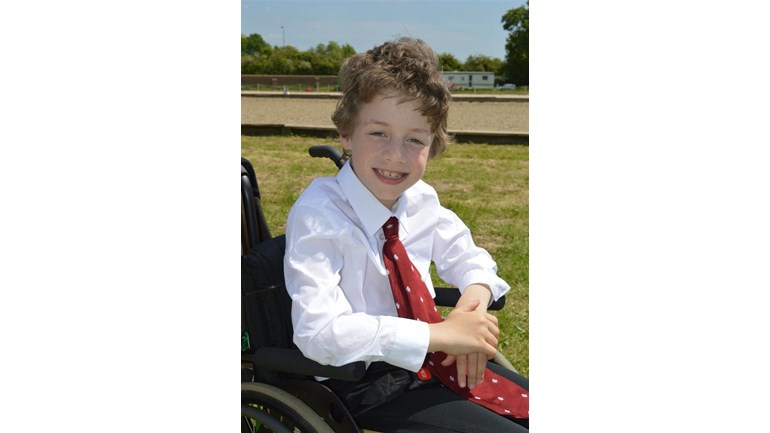 Update:  We have been incredibly blessed to have raised over £28,000 between the U.S.  and the UK.   Thank you to all!  Any additional money raised will pay for crucial physiotherapy for Oliver after the surgery
Thanks for taking the time to visit our JustGiving page. We need your help to raise funds for Oliver to have a life changing operation. 
Oliver has been accepted for the SDR surgery at the St. Louis Children's Hospital in Missouri.  In his letter the surgeon wrote:  "…we expect the following improvements:  His spasticity will be permanently reduced, his sitting and standing postures will improve, his transitions between postures will be easier and faster, his balance and level of comfort will both improve. We feel that Oliver has a chance to walk independently indoors and some distances outdoors, but he will need a device for long distances and the community….We strongly recommend that he have the rhizotomy surgery."  Needless to say we liked the sound of all that!!!
The surgeon would open Oliver's spinal cord and cut the sensory nerves that are sending signals to make his leg muscles abnormally tight (which is caused by his Cerebral Palsy).   After the surgery he will need intensive physical therapy for at least six months to strengthen his legs and re-learn how to use them. 
At the moment Oliver uses a walking frame to walk indoors (or crawls) and almost always uses his wheelchair when he leaves the house.   His dream is to walk on his own.  If after the surgery and months of physio he could just walk across a room that would be completely life changing for him.  Just being able to go into the kitchen and get a drink on his own, or get to the toilet completely on his own is a dream for him. 
 Unfortunately the cost of it all is more than we can manage on our own.  Besides from the cost of the surgery (£26,000), there is travel and accommodation costs for one month for St. Louis, physio for six months (at least £6000), equipment needed for physio at home and travel and accommodation costs for going to intensive physio in Bedfordshire for a few weeks.  If we can raise £25,000 towards the total costs then we could get Oliver the surgery.  Any additional money we  raise will go towards providing him with more physiotherapy or any equipment needed. 
 All the money we raise will be held by the charity Tree of Hope.  They will then pay the hospital and therapy centre on our behalf.  
 Thank you for any donation you can make!
 Donating through JustGiving is simple, fast and totally secure. Your details are safe with JustGiving - they'll never sell them on or send unwanted emails. Once you donate, they'll send your money directly to the charity. So it's the most efficient way to donate - saving time and cutting costs for the charity.
 Tree of Hope reserves to use these funds for any purpose stated in the parents charter, including but not limited to, medical treatment, surgery and therapies and related travel expenses, medical and exercise equipment, childcare, home adaptations and the cost of vehicles designed for the disabled.