Ciaran's Cause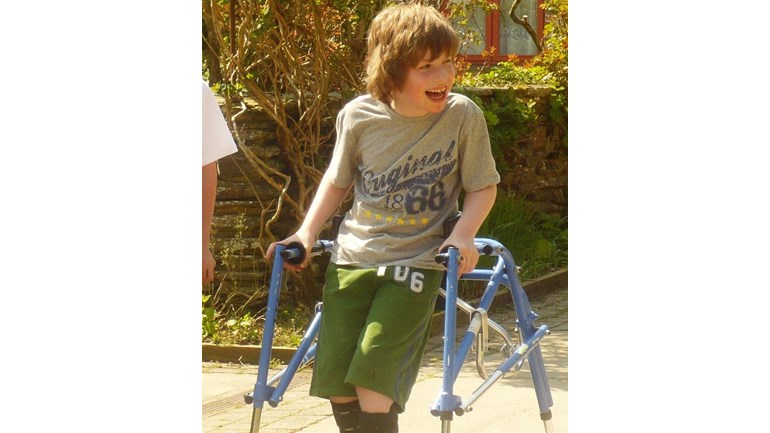 Ciaran was born 7 weeks early after a very difficult birth. As our first child had also been premature, we were at first less concerned than most parents. However, as the months passed, it became clear that Ciaran was not reaching many of his physical milestones and at 10 months he was diagnosed with spastic diplegia- a form of cerebral palsy. The doctors could not say whether Ciaran would ever walk.
Over the years it became clear that Ciaran's cerebral palsy was going to have a huge impact on his daily life . The spasticity in his legs prevents him standing  or walking unaided and tasks that many of us take for granted - like  washing and dressing-  are also extremely hard for him.  Despite these challenges, Ciaran has a fantastic attitude to life and remains steadfastly cheerful. He has never ever complained about his disability, choosing to focus instead on making  the most of what he can do.After many years of hard work, Ciaran progressed from using a walker to crutches for short distances,and had even started to stand on his own for a few minutes! More recently, however, things have become much harder and at 13, he struggles to walk short distances in his walker as his condition starts to take its toll on his muscles. Without any intervention, it is likely that he will deteriorate further.
There is currently only one permanent treatment for spasticity which involves a surgical procedure called Selective Dorsal Rhizotomy (SDR), the modern form of which was pioneered by Dr TS Park in the US. Although the UK now has several neurosurgeons capable of carrying out this procedure - it is not currently funded  by the NHS. We hope to take Ciaran to St Louis Children's  Hospital where he has already been accepted for the operation - with the goal of maintaining and improving his mobility in the long-term. Any funds raised will go towards the cost of SDR surgery, additional orthopaedic surgery and most importantly, intensive post-operative physiotherapy for several years after the operation as Ciaran will need to learn to use his muscles all over again.
Like all other children of his age, Ciaran wants to start taking his first steps towards independence. We hope that this operation will allow him to do just that.
Should we exceed the target amount (or if we do not raise enough funds, or if they cannot be used for any other reason) the funds raised will go to the general funds of the Tree of Hope to assist other sick children.
Thanks for taking the time to visit my JustGiving page.
***************************UPDATE****************************
Since we last posted, Ciaran has been accepted for SDR at Leeds General Infirmary and, all being well, should be having the operation in July!  It will be so much easier for us as a family to be able to have this done within the UK, so this is great news.
While the NHS is planning to fund a limited number of SDR operations over the next few years, Ciaran is outside the age-range for this proposed programme and so we will still need to self-fund the operation and all the aftercare . Luckily, the cost of the operation in the UK is somewhat lower that it is in the US so we have been able to reduce our fundraising target to £50,000.  The funds raised so far will pay for the operation itself but he will still require intensive physio for at least two years afterwards to have a chance of a good recovery.  

Ciaran will also be having major orthopaedic surgery 6-8 weeks after SDR to address his muscle contractures so it looks like it's going to be quite a summer....thank goodness we will have the World Cup to distract him! 
Many thanks to all of you who have donated - we have been truly overwhelmed by everyone's generosity and promise to keep you updated over the next few months.........
**********************************************************************

Donating through JustGiving is simple, fast and totally secure. Your details are safe with JustGiving – they'll never sell them on or send unwanted emails. Once you donate, they'll send your money directly to the charity. So it's the most efficient way to donate – saving time and cutting costs for the charity.