Occupational Therapy for SPD and sensory equipment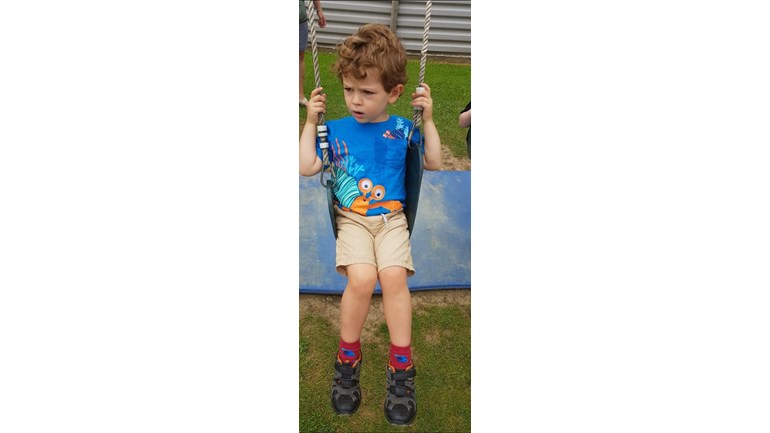 My son Stuart is a lovely 3 year old boy who was diagnosed with Autistic Spectrum Disorder at the very early age of 2.5 years. He is non verbal and struggles with the challenges of daily life. His diagnosis has taken a huge toll on the family especially watching his regression and continous struggles with high levels of anxiety. Stuart not only has speech, language and communication difficulties for which he is receiving ongoing SAL therapy, but also has sensory processing disorder (SPD) and requires regular sessions with an Occupational therapist. 
The aforementioned difficulties means that Stuart finds it extremely challenging, and at times impossible to participate and succeed in learning activities at home and in his educational setting. Stuart also struggles with food and will often refuse or gag on certain foods because of colour, texture or smell and requires an Occupational therapist to help him overcome these difficulties and importantly to stop him from choking on food.
When Stuart is engaged with an activity, he has single channelled attention and is in his own little world. This means that he switches off to everything else going on around him and he cannot shift his attention from his play to the spoken voice. He needs continued adult support to encourage him to participate in a range of activities and to maintain his attention for short periods of time on these tasks. We also need to adapt the tasks to include Stuart's sensory needs and motivators.
Without the support of an Occupational therapist who specialises in SPD, Stuart will not be able to develop successful relationships with the adults and peers around him. This will have a negative impact on his long-term mental health and well-being. 
Unfortunately an Occupational therapist who specialises in Sensory processing disorder (SPD) is not available on the NHS due to his age and location. And the cost of a private session is £87.50 per hour. Therefore any contribution (however big or small) towards Stuart's ongoing OT therapy would be hugely appreciated.
Thanks for taking the time to visit my JustGiving page.
Donating through JustGiving is simple, fast and totally secure. Your details are safe with JustGiving - they'll never sell them on or send unwanted emails. Once you donate, they'll send your money directly to the charity. So it's the most efficient way to donate - saving time and cutting costs for the charity.
7.5% of all donations to Tree of Hope in relation to this appeal will be allocated to the general charitable purposes of Tree of Hope to cover our core operating costs.
 
If we raise insufficient funds, or surplus funds, then the funds will be used, if appropriate, to fund support for our child's needs in accordance with Tree of Hope's charitable objects.  If in those circumstances we are unable to use all or part of the funds for the benefit of our child in accordance with Tree of Hope's charitable objectives, then any funds that cannot be used will be transferred to be used for the general charitable purposes of Tree of Hope.'