Noah Brown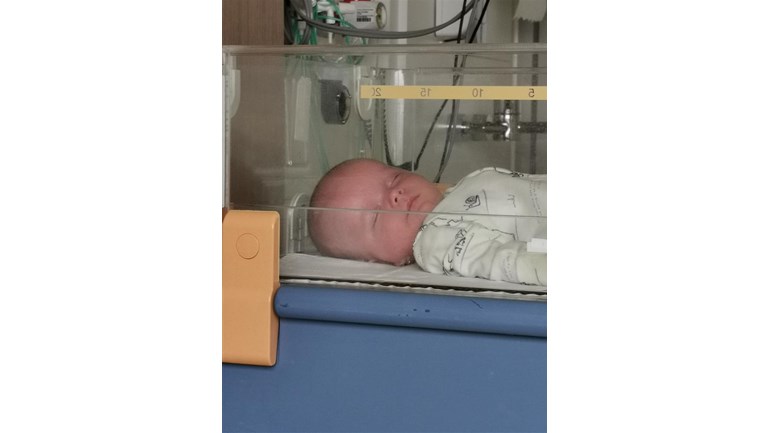 Thanks for taking the time to visit my JustGiving page.
We have decided to set up this page to try and raise some money to help with costs towards treatment for Noah. At the minute Noahs head is growing too fast, this has meant his skull has been pushed outwards and is already a very funny shape. The soft spot on his head is larger than it should be to accommodate the pressure inside his skull. As bad as that sounds this is currently a good thing as the pressure in his head is normal due to the extra space. 
 He is being checked and scanned regularly to make sure the growing slows down and everything is OK. Once that's been done we then get the OK for him to wear a helmet that will gently re shape his head so has he gets older it will become a more regular shape. This costs £3000 and the affects of it are greater if started younger. After a certain age it can not be corrected 
A little bit of back ground on whats been going on. When noah was 4 days old he was admitted to hospital because he was jaundice, when he was in A&E it was noted he had a large soft spot and that it bulged so they worried he had an infection. They decided to keep an eye on him and the next day we went home. 
 5 days later he had diarrhoea and a slight temperature. After phoning nhs 111 they advised we took him back to A&E just to be sure because of his age. 20 minutes later my tiny baby was having a lumbar puncture and iv antibiotics for suspected sepsis. It was the most horrific thing to witness. He was in hospital for 4 days in which time he had to have the cannul put back in because he kept Knocking it out. All the checks came back clear. 
After that things settled down slightly until we noticed his head had suddenly swollen. At 7 weeks he was rushed back in. This time an ultrasound of his brain found that one of the layers of his brain is thicker then it should be. At the moment they think this is why his soft spot bulges but they aren't sure until they do more checks. They don't currently have an explanation for why his head grew so rapidly. We do know that no matter what the diagnois is he will need help to re shape his head. This should hopefully not only push back the bones that have moved out of place but help close the soft spot on his head. 
7.5% of all donations to Tree of Hope in relation to this appeal will be allocated to the general charitable purposes of Tree of Hope to cover our core operating costs.
 
If we raise insufficient funds, or surplus funds, then the funds will be used, if appropriate, to fund support for our child's needs in accordance with Tree of Hope's charitable objects.  If in those circumstances we are unable to use all or part of the funds for the benefit of our child in accordance with Tree of Hope's charitable objectives, then any funds that cannot be used will be transferred to be used for the general charitable purposes of Tree of Hope.