Funds for Nieve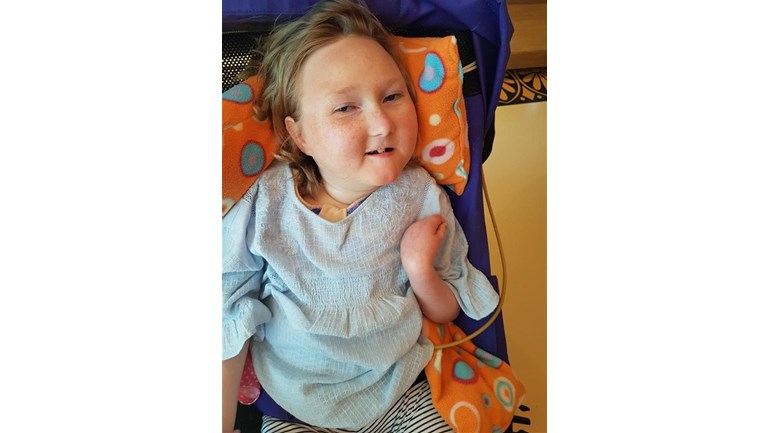 Thank you for taking the time to read our story. Nieve is 11 years old and was born with a rare genetic disorder called Rett Syndrome.  The syndrome has catastrophic impacts on a child's development and in Nieves case she has been affected severely. 
Nieve is unable to walk or talk or have any control over her movements.  She has multiple complex medical conditions including epilepsy, breathing difficulties,  scoliosis and is unable to feed orally resulting in a tube in her tummy to be fed. 
Despite all of her challenges, Nieve is a bright and happy little girl who is interested in the world around her. She has a wicked sense of humour and despite her inability to communicate verbally she has the ability to express herself through her non  verbal behaviour....which includes closing her eyes and pretending she is asleep when she isn't interested in participating !
Nieves parents rely on vital equipment to allow them to safely care for Nieve in the family home.  This can be challenging at times and quite often Nieve is unable to access equipment that would really make a difference to her life due to cost implications.  
Nieves family and friends are raising funds via charity 'Tree of Hope ' to help finance life changing equipment.
'Tree of Hope' ensures that all funds raised are used for the purpose of supporting Nieve at home.  

7.5% of all donations to Tree of Hope in relation to this appeal will be allocated to the general charitable purposes of Tree of Hope to cover our core operating costs.

If we raise insufficient funds, or surplus funds, then the funds will be used, if appropriate, to fund support for our child's needs in accordance with Tree of Hope's charitable objects.  If in those circumstances we are unable to use all or part of the funds for the benefit of our child in accordance with Tree of Hope's charitable objects, then any funds that cannot be used will be transferred to be used for the general charitable purposes of Tree of Hope.

If you have any questions at all please do not hesitate to call the family support team on 01892 535525.