Have a Heart for Harvey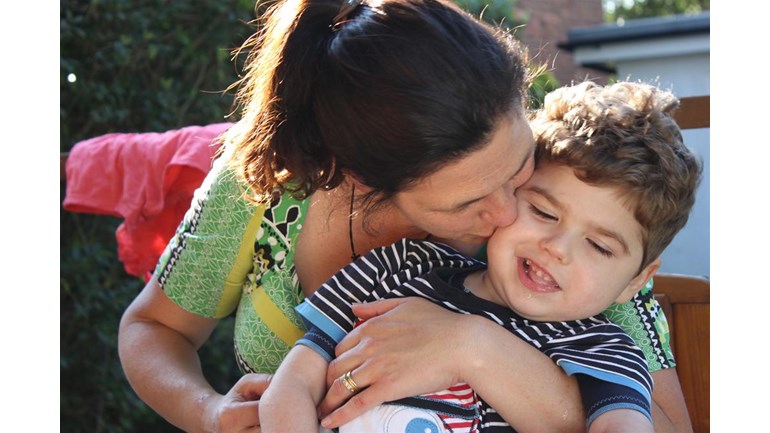 Please help us raise £17,500 for the Tree of Hope charity to help Harvey receive ongoing blocks of 6 week intense therapy programmes at The Children's Trust and therapy equipment.
6th March 2009. The day my family's life changed forever. My son Harvey, four and a half months old had a 'funny dream' on the Tuesday with nanny, something 'odd' happen on the Wednesday with daddy, a recognised seizure on Thursday with me and on Friday 18 full on tonic clonic seizures (all four limbs stretched stiffly forwards and shaking, eye twitching and breath holding). That was the start of nearly three months in hospital and horrendous daily seizures.
Up until this point Harvey had been a 'normal', happy and developing baby. During this first hospital stay, my beautiful little baby was subjected to every kind of test possible to try and find out why. MRI scans, EEG's, hundreds of blood tests, lumbar puncture, heart scan, muscle biopsy and of course numerous medications. You name it, Harvey was tested for it.
You expect when you go into hospital to come home better, but no, we came home no further forward. In fact his seizures were worse. He would start with the tonic clonic seizure and that would then evolve into infantile spasms (all four limbs keep drawing up and forward violently and gradually lessen in severity as the seizure passes). They could last up to 25 minutes and Harvey would often scream and cry out throughout. Watching your baby go through this is the most heart wrenching experience as you feel so helpless.
The seizures were relentless leaving Harvey exhausted and his development began to deteriorate. He was now being fed through a tummy tube, wearing a splint on his left foot and both hands, wearing a lycra suit for stability, in a fully supportive buggy, having all sorts of therapy (he often slept through them being post seizure). Life revolved around appointments, seizures and medications. Harvey was working through an array of anti convulsant drugs to no avail. We tried a special and rather amazing diet – the Ketogenic diet, but unfortunately despite working for many drug resistant children, it didn't work for Harvey. He stayed on the diet (which involves taking his blood and ketone levels twice a day) because it made him more alert.
Eventually after two years and a stay in Great Ormond Street hospital having further investigations we found out why Harvey was having seizures. The right side his brain was slightly malformed and it was the malformation that caused his seizures. This would have been from embryotic stage and they don't as yet know why - just one of those things With his type of epilepsy no drug or diet will control it and he would have deteriorated as time went on. As you can imagine this was devastating and shocking news, but there was a glimmer of hope……surgery.
The operation is called a hemispherectomy which means disconnecting and partially removing the right side of his brain effectively resulting in just half a working brain. Scary stuff and it would leave Harvey as if he had had a stroke. They carry out this type of operation on young children as they have the potential for the remaining half of the brain to be able to re-programme and learn functions that the disconnected half did. Although a successful operation they couldn't give an outcome for Harvey as his development was so impeded with no skills in place. A hemispherectomy would potentially be his only chance to reduce the seizures. They only gave a 40-50% chance of stopping them, but said it would enable him to have a better quality of life.
18 August 2011 (3 weeks after I gave birth to our 3 child!) Harvey had the operation. The following 6 months were extremely tough. Harvey was in a lot of discomfort with dystonic movements, pain and unable to sleep well. However, there were positive signs to. He still hadn't had a seizure, began to smile, moved his left side and was trying to sit up.
You would think that after such an operation there would be a rehabilitation programme, but no. So I contacted The Children's Trust at Tadworth (the leading paediatric brain injury centre in UK) as to whether Harvey qualified for their rehabilitation services. After an assessment they offered Harvey a 6 week intense therapy programme. It took a year battling with Surrey Primary Care Trust to get the funding. Finally in March Harvey began the programme. It was amazing. Harvey exceeded their expectations in many areas. He is much more alert and has improved with his visual awareness, interaction, anticipation, core strength, arm function, understanding of cause and effect, switch toy work, tasters and oral awareness. What was also truly amazing was his realisation that he has a left side! The progress made with his left hand was incredible such that the therapists now believe that with further therapy Harvey could be able to 'dual switch' which then opens up more avenues in his relation to his ability to communicate etc. The Trust has recommended that Harvey has continuous blocks of intense therapy there, but I don't hold much hope for securing any more funding from the government, hence the reason why we are now fundraising and hoping that the good people reading Harvey's story will help.
What has happened to Harvey is a miracle. At the point of surgery his developmental age was that of a 1-2 month old, his quality of life minimal, life expectancy limited, future bleak. 18 months on we have a different boy. He no longer has seizures. He is happy, social and has a desire to learn and develop. He has shown us so much promise that it would be a crime not to give him the chance to be able to reach his full potential.
Thank you for reading and I hope Harvey has inspired you. We will shortly have a website up and running if you are interested in learning more about Harvey's life. www.harveybessant.co.uk
Thanks for taking the time to visit my JustGiving page.
Donating through JustGiving is simple, fast and totally secure. Your details are safe with JustGiving – they'll never sell them on or send unwanted emails. Once you donate, they'll send your money directly to the charity. So it's the most efficient way to donate – saving time and cutting costs for the charity.
So please dig deep and donate now.
Should we exceed the target amount (or if we do not raise enough funds, or if they cannot be used for any other reason) the funds raised will go to the general funds of Tree of Hope to assist other sick children.