NiamhNeedsToWalk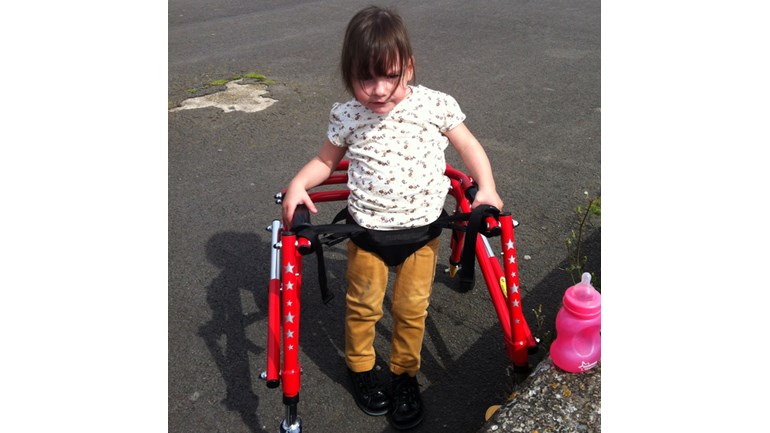 Thanks for taking the time to visit our JustGiving Page.
Niamh Needs To Walk is exactly what we are trying to achieve. Niamh is my two year old daughter and has Cerebral Palsy, she needs a life changing operation performed in America to give her the independance she is desperately craving.
Our Story
Myself and partner Dan found out at our first scan we were expecting identical twin girls, although we were very scared we were also over the moon, we had regular checkups and scans but on a scan at 7months pregnant we found out that one of our baby girls Seren Rose no longer had a heartbeat, as you can imagine we were absolutely devastated but needed to stay strong for our unborn child Niamh.  Two weeks later on Christmas eve 2009 I was having terrible pains so went to hospital to be checked over, I was told I had a water infection and had to stay in over night, by the morning I was still in alot of pain and on re examination told I was in labour and had to have an emergency caeserean.  I then went down to theatre and delivered my two babies.  Firstly was my sleeping angel Seren Rose and secondly was my little fighter Niamh.  Niamh was taken straight to the high dependancy unit,  I cant really describe how it first felt meeting my little girl, she was so tiny and bruised but so, so beautiful and delicate.  Niamh spent the first 3months of her life in hospital and did not give up,  she caught MRSA and got through it she had Sepsis which can be life threatening but she also got through that.  She was so little but so determined and strong, eventually Niamh was allowed home at 3months old but had to go back to hospital a few weeks later for tests as her head circumferance was getting too big.  After tests we were told Niamh had Hydrocephalus (a build up of fluid on the brain) The excess of the fluid puts pressure on the brain which can cause it to be damaged.  Niamh had to have an operation which meant having a shunt (a thin tube) implanted in the brain to her abdominal cavity draining away the excess fluid, the shunt will be in place for life.  This was another test sent to try Niamh but yet again she got through it.  Our baby girl came back home but in October 2010 Niamh started doing unusual jerking movements so another visit to the hospital and more tests were done, it was said that Niamh was having infantile spasms which were treated with steroids and luckily this worked as she has never had anymore of the spasms since. After all this in the first year of Niamhs life we thought surely there is nothing else that Niamh would have to face, but we were wrong. At 18 months old we were told that Niamh had Cerebral Palsy, which was heartbreaking to hear but another thing as a family we would get through.  So thats why we are asking for donations so that we can get through this by giving Niamh the best chance to walk and be the independant little girl she is so desperate to be. The way we can do this is by raising the money to be able to send Niamh to America for the operation which potentially can be life changing for her.  Niamh is such a loving, happy little girl but at times does get very frustrated as she just wants to do everything that all other children are able to do but at present she cant, so please, please support us by making a donation and changing this little girls life.
Thank you for taking the time to read this
Emma and Dan 
Donating through JustGiving is simple, fast and totally secure. Your details are safe with JustGiving – they'll never sell them on or send unwanted emails. Once you donate, they'll send your money directly to the charity and make sure Gift Aid is reclaimed on every eligible donation by a UK taxpayer. So it's the most efficient way to donate - I raise more, whilst saving time and cutting costs for the charity.
So please dig deep and donate now.