Mollys wish to walk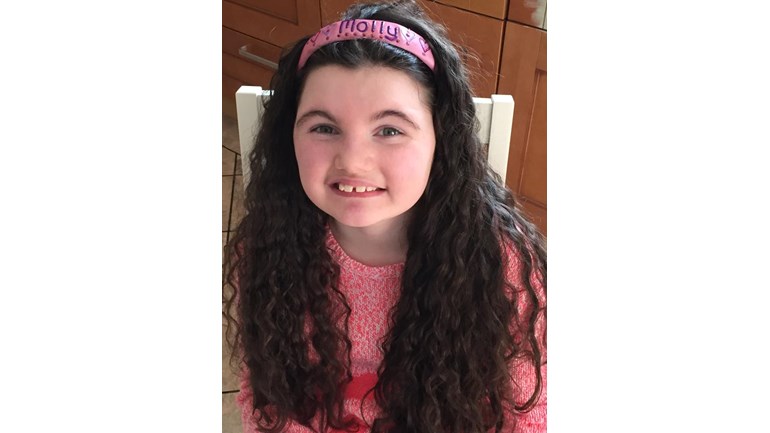 Thanks for taking the time to visit my JustGiving page. This page is for Molly, who has a condition called PHACE Syndrome.  As a consequence of this, she suffered a brain haemorrhage and stroke shortly after her sixth birthday. This left her unable to move, speak or swallow. Her recovery in the 8 years since has been remarkable, but she is still unable to walk unaided.  This is her big dream.
This page has been set up to receive donations that will go towards supporting Molly in her dream to walk again.
Molly is now 14 years old, and being a teenager has brought its own set of new problems.  Firstly, Molly has grown! She is taller and heavier now, which makes moving her around at home, and more specifically, getting her up the stairs to her bedroom, a lot more difficult and risky.  We have taken the decision to install a stair lift to help Molly get upstairs to her room, so that she can still enjoy a bath in the evening and sleep near the rest of the family.  Any money raised through this page will be put towards funding this equipment which is important for Mollys independence at home.
Secondly, Mollys growth has produced a new problem that is faced by many teenage girls - she now has Scoliosis - a curve in her spine which is affecting her balance and walking.  Mollys scoliosis is due to the lack of muscle tone on her left side, so she leans to the right, and her spine now curves that way too.  Because this curve is caused by posture, and it is still flexible (when Molly lays down it straightens out quite a bit), we can manage this with several non- invasive approaches.  A supportive lycra bodysuit provided by the NHS will help to keep Molly more upright during everyday tasks. However, this will only help while the suit is being worn.  Sessions with a chiropractor may be of benefit, and we have an assessment booked with a local specialist clinic to see if they will be able to work with Molly.  However, Molly also needs to train her muscles to support her spine again, and a specialist clinic in London, Scoliosis SOS, runs intensive courses to teach patients how to correct their posture and exercise at home.  We are currently investigating this option and hope to take Molly for an assessment there in the near future.  If we decide to undertake the 4-week course, we will need funds to do this.  So, once the stairlift is fully paid for, any future money raised through this page will go towards scoliosis treatment.
So we are dealing with a few issues that have come along due to Molly's age and growth.  She is still as determined as ever to make the best of her situation and try her hardest at any therapy we ask of her.
Tree of Hope will ring-fence any money raised through this page just for Molly - and it can only be used to pay for her therapies or any medical equipment she may need.
Should we exceed the target amount (or if we do not raise enough funds, or if they cannot be used for any other reason) the funds raised will go to the general funds of Tree of Hope to assist other sick children.
Donating through JustGiving is simple, fast and totally secure. Your details are safe with JustGiving – they'll never sell them on or send unwanted emails. Once you donate, they'll send your money directly to the charity. So it's the most efficient way to donate – saving time and cutting costs for the charity.
HUGE thanks from all of us, especially Molly xx