Ali's journey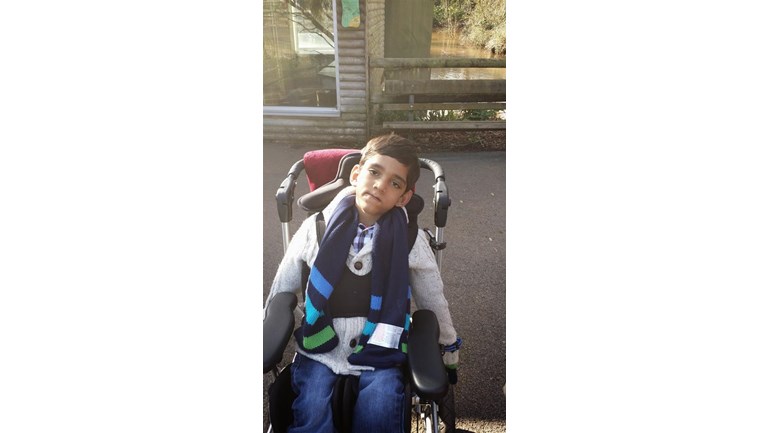 Ali is a 7 year old boy that enjoys school and he participates in the activities with total physical assistance. He is interest in his surroundings and he is affectionate and loving. He was born with Cerebral Palsy and Developmental delay/developmental disabilities. He is completely dependent for all self-care needs. Ali takes 4 different medications daily to control his spasm. Ali is non-ambulatory and cannot maintain a sitting position on his own. He uses a specialized wheelchair that meets his needs. He vocalized some vowel sounds to indicate pleasure and wanting more. He smiles and laughs in response to a familiar person and will attend momentarily when spoken to. He turns his eyes and head towards very loud noises.

Ali has a diagnosis of Spastic Cerebral Palsy and current is maximally supported in a wheelchair system due to his inability to control his head, trunk, arm and leg movements. He has difficulty holding his head upright and can only sit when fully supported at his hips and trunk. It's essential for him to have many repeated opportunities throughout his day to practice purposeful and meaningful movements in order to learn these basic functional skills. 

Ali has to undergo a pacemaker replacement for the deep brain stimulation anytime next month. 

Ali attends Dame Hannah Rodgers for the therapies that are essential for his well being and a better living. When children are level with their peers, their social, emotional and psychological development is enhanced. This inclusion is a profound motivator for learning to sit.

Ali loves to play in the water. Loves to swim and loves to move his legs in the water a lot like a little fish. Hydro Therapy is one of many options that would benefit Ali also to promote motor, cognitive and social development. Water provides buoyancy and resistance that can improve circulation, strength and endurance, flexibility, balance and coordination, range of motion and muscle tone. Hydro activities also help to improve sensory integration.



Please show your support.