A Friend for Milo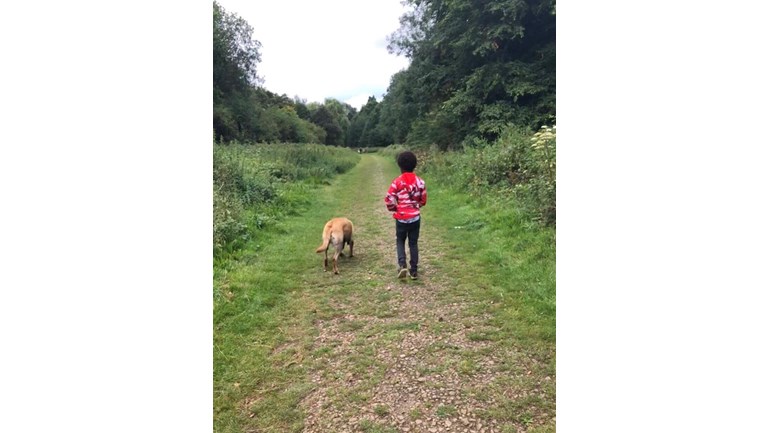 Firstly, thanks so much for visiting our Just Giving page.
Our 7 year old son, Milo is severely non-verbal autistic and we are currently in the process of trying to purchase a Supporting Paws Assistance Dog as a companion for him.
Supporting Paws are highly trained assistance dogs which help to encourage and allow children to fully integrate into the community whilst also providing sensory and safety interventions which help the child to regulate behaviour and anxieties.
Milo is an exceptionally loving and happy child who has suffered extreme trauma in his short life. Because of this, he suffers from extreme separation anxiety and finds certain situations overwhelming and hard to cope with. As he is unable to communicate his thoughts and feelings to those that he trusts the most, his anxieties are expressed through his behaviour which can be unexpected and challenging, making outings into the community difficult for us.
We contacted Supporting Paws as Milo has a real love of dogs, we have family members with them and Milo's favourite activity is visiting them. 
Because of his problems with social interaction, Milo is unable to play with his peers and is excluded from games due to his lack of understanding. As a dog does not discriminate, plays simple games and has the stamina and desire to keep up with Milo, they provide the perfect playmate, companion and ultimately friend for him.
We have recently had an introductory assessment with Supporting Paws where we went for a long walk with an assistance dog and have never seen Milo so confident, engaged and having fun exactly as every 7 year old should (photos below). His anxiety was visibly lower despite being in an unfamiliar place.

If we are able to raise enough funds to purchase an
assistance dog for Milo, his experience of the world and our lives as a family would change dramatically. By having a constant companion that can provide the reassurance he so desperately needs to reduce his anxiety and thrive in the community, we really feel that everyone would benefit from everything our wonderful little boy has to offer.

Thank you so much for taking the time to read this.
Stacy and Matt
7.5% of all donations to Tree of Hope in relation to this appeal will be allocated to the general charitable purposes of Tree of Hope to cover our core operating costs.
If we raise insufficient funds, or surplus funds, then the funds will be used, if appropriate, to fund support for our child's needs in accordance with Tree of Hope's charitable objectives, then any funds that cannot be used will be transferred to be used for the general charitable purposes of Tree of Hope.