0ur boy who has never Eaten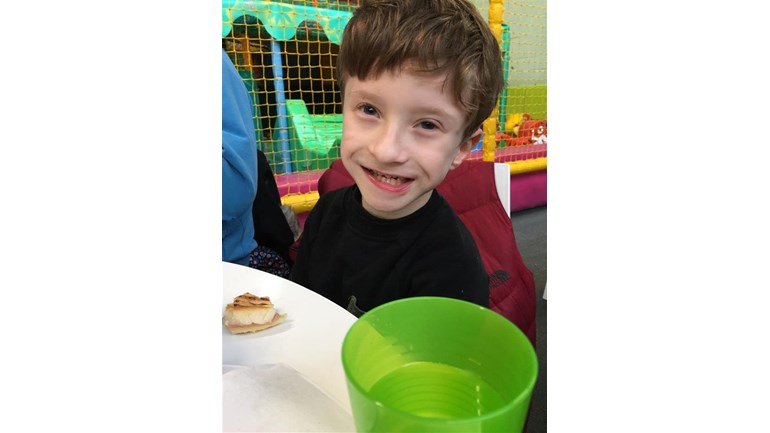 On May 5th myself (Maxwell's mummy) and some good friends will be getting muddy for Maxwell as we take on a Tougher Mudder challenge. 
For those of you who do not know about our son, he was born a tiny 875g with a rare genetic condition which affects many aspects of his life, one of the most challenging for us as a family is his inability to eat. After months of doing everything we could to avoid it, at 9 months old he had a feeding port
 fitted directly into his stomach and to this day he has been tube dependant.
It's hard to imagine life without eating isn't it? So much of our daily and social lives revolve around meal times, we comfort ourselves with food and have fond memories of eating with our loved ones. For Maxwell meal times are stressful and isolating, eating like walking is something most of us do without thinking but it is still a learned skill and being fed by tube means he has never learnt that skill.
Having exhausted all options on the NHS and seeing various different professionals privately, we began looking overseas to see if we could find further solutions. After lots of research we came across a feeding programme run by Professor Will Sharp at Emory University in Atlanta Georgia. Not only does this program have over a 90% success rate of weaning tube dependant children (incredibly it has successfully weaned a child with the same condition as Maxwell), the feeding physiatrist attached to the programme is also working on the research team into Maxwells genetic disorder, the only research that is being done on it in the world! Unfortunately the programme comes with a hefty price tag and whilst we have raised £10K, we are trying to find the other £16K needed. 
Maxwell has already and will continue to face lots of challenges in his life, but to see him take enjoyment from food and be free of his tube would be a dream come true

. There is nothing more powerful than hope, even when the chance is so slim we can hope and we can win. Even if we fail, the fact we kept hope means we did all we were able to do. 
Thank you for reading our story and for any donation you wish to give, it really is so appreciated.
Maxwells family xx
7.5% of all donations to Tree of Hope in relation to this appeal will be allocated to the general charitable purposes of Tree of Hope to cover our core operating costs.
 
If we raise insufficient funds, or surplus funds, then the funds will be used, if appropriate, to fund support for our child's needs in accordance with Tree of Hope's charitable objects.  If in those circumstances we are unable to use all or part of the funds for the benefit of our child in accordance with Tree of Hope's charitable objectives, then any funds that cannot be used will be transferred to be used for the general charitable purposes of Tree of Hope.

Thanks for taking the time to visit my JustGiving page.
Donating through JustGiving is simple, fast and totally secure. Your details are safe with JustGiving - they'll never sell them on or send unwanted emails. Once you donate, they'll send your money directly to the charity. So it's the most efficient way to donate - saving time and cutting costs for the charity.