Maxim's ABA journey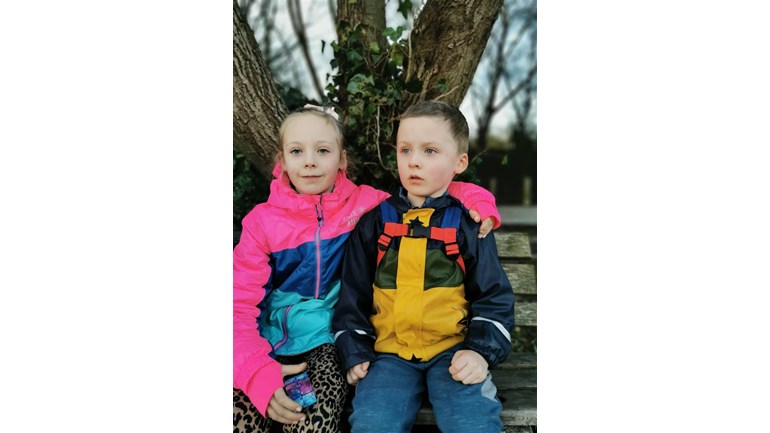 My son Maxim is a lovely  5-year-old boy  who struggles with the daily life challenges of living with Autism Spectrum Disorder. He  was diagnosed with Autistic Spectrum Disorder at the very early age of 2.5 years. 
Autism is a lifelong, developmental disability that affects all aspects of life, especially, how a person communicates with and relates to other people, and how they experience the world around them.The ASD that Max lives with affects his ability to communicate in a functional way, which means that he cannot progress with his learning easily. He suffers from severe echolalia; a condition that involves the constant repetition of noises/words that are heard. Max will repeat certain words hundreds of times a day, and when asked a question he will often just repeat it back, or not say anything.
For Max this condition is about:
  - not being able to enjoy different foods as he is unable to chew properly, he can easily chock on solid foods and prefers blended pureed food.
-being unable to sleep properly as he  gets oversimulated and finds it difficult to control his emotions. It can  take him long time to get to sleep and stay asleep for a long time. He wakes up through the night and often keeps the family awake.
-beeing unable to properly engage with other people and express himself. Max has very limited understanding and is currently learning how to use  visual aids to communicate in the special school which he attends. 
-often being unable to enjoy the world around him as when he gets sensory overwhelmed he refuses to walk. Max struggles with open spaces: fields and seaside scare him off.

-being unable to control his emotions during any transitions. For example, a simple change of routine can cause a meltdown with screaming, crying, leg kicking and throwing himself on the floor, and subsequently a lot of stress to Max and his sister and the whole family

-not beeing able to imitate, and share his interests with other children.

For us as a family, there always been a challenge to find any mainstream childcare for Max, join our friends or my daughter's friends for parties or playdates. As Max has no sense of danger he constantly needs to be looked after which is really exhausting. Max's behaviour can be unpredictable, uncontrollable, and self-injurious. The pandemic has made him even more anxious.
As his mum I am always trying different therapies with Max, constantly learning, attending various courses so I can support my son the best I can.
Unfortunately, there's not much help or support that is funded by the government so most therapies are funded by ourselves.

More and more I am thinking what Maxim's life is going to be like when I can't support him.
After extensive research I discovered ABA (Applied Behaviour Analysis), which is one of the most efficient early intervention therapies.
This is a science based therapy and is widely used in the US for children with autism from as young an age as 18 months; it is fully drug free and instead is based on many hours of carefully tailored play therapy delivered by highly trained and qualified tutors at home and at school.

The younger the child is when you start it, the more chances he/she will have to improve to a level that would allow them to live a good quality independent life.

The goal of ABA therapy is to stimulate behaviors that are helpful and decrease behaviors that are harmful or adversely affect learning. ABA therapy works by breaking down tasks into simple steps whilst using a reward system to motivate an autistic child to want to learn.
The programme is very expensive and sadly it is not available through the NHS. One hour of a consultant's time (they put the individual programme together and review progress monthly to adjust the targets) costs £70 and an hour of the tutor's time (they put the programme into practice) costs on average £15-£25 an hour. 3-4 hours a month of consultation and a minimum of 20 - 30  hours of tutoring a week is required to progress.
Inspired by my findings, I got determined to provide my child with the opportunity to develop and start enjoying the simplest things in life.
To safe some money and to find out more about ABA, I decided to start working for an ABA company as a tutor so I can get in-depth knowledge and do some of the tutoring hours myself with Max. I am now employed as a Trainee Behaviour Therapist and going through a lot of training whilst helping other families. I am amazed how other children are progressing with ABA.

 Even after a short time doing ABA tasks with Max he achieved a lot. He is nearly toilet trained, started saying more words, trying more foods, can point at things and answer some simple 'what is it?' questions and even started showing a bit of interest in interacting with other children . He is definitely responding to it very well and could do so much better if he did more hours supported by professionals.
This would not be possible without your help and support. I am currently looking for  funding 1 years of ABA support, which will cost around £15000 - £20000. My target is £ 15000. Any donations small or big are very much appreciated. 

Many thanks for taking the time to visit my page and your support .
7.5% of all donations to Tree of Hope in relation to this appeal will be allocated to the general charitable purposes of Tree of Hope to cover our core operating costs.