Matthew's Journey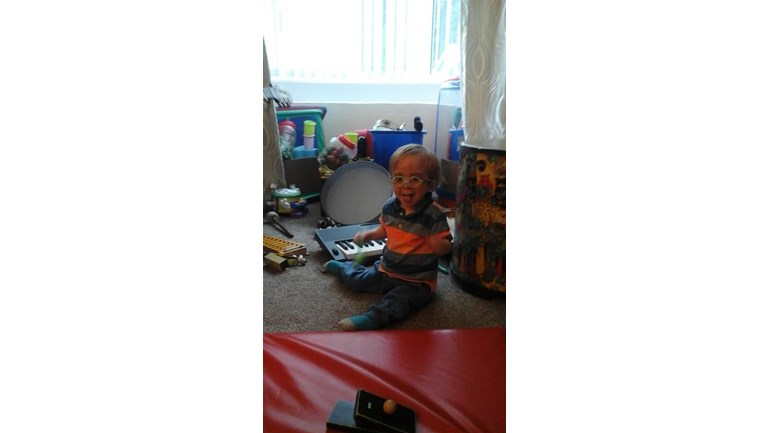 Our beautiful baby boy Matthew was born on 10th of March 2014. We had a very stressful pregnancy, with an abnormality in Matthew's brain being identified at 20 week scan. We turned down amniocentesis due to the risk of miscarriage and the information was not going to affect our plans for the pregnancy.  Matthew arrived 5 weeks early and very quickly his complex needs started to become clear. 
Matthews diagnosis is of partial Patau Syndrome - Trisomy 13.  Matthew also has Congenital Glaucoma and Optic Disc Coloboma in both eyes. He has global physical, sensory and development delay.
Matthew was in Neonatal Intensive Care Unit for 38 long and scary days. After stopping breathing 90 minutes after being born, Matthew transferred hospitals and spent the next 4 days on life support machines, struggling to maintain good oxygen levels, heart rate and having seizure activity.  
Thankfully our Mattie Moo began to show signs of stabilising.  We were allowed to hold Matthew for 1 hour a day. It was brilliant! Matthew began to take milk, 3ml,  5ml,  10ml then 20ml by one week old. Matthew was transferred back to Daisy Hill Hospital Newry. Our confidence grew as we started attempting to feed Matthew and taking charge of his cares such as changing nappies and keeping his skin moist - starting to feel like normal parents,  doing all these wee jobs for our baby. However Matthew continued to have massive feeding problems, having apneas and bradycardia s. Matthew kept having to be fed by NG Tube to rest him.
Matthew was moved back to NICU after having 6 profound seizures in under 24 hours that required him being resuscitated 6 times.  After undergoing every test available in the hospital, including MRI, lumbar puncture, several brain, lungs, stomach and renal x-rays and ultrasounds,  EEG, ECG, heart echo, blood tests, eye tests and hearing tests.  We started to get a picture of the multiple congenital abnormalities associated with Patau Syndrome and understood that Matthew would have lifelong medical needs, likey severe physical, sensory and development impairment. 
We are very lucky because we got to take our Matthew home with us. But as those tests suggested, most of Matthew's problems followed us home.  
Matthews feeding continued to be a massive ordeal. Matthew is still on an apnea respiration monitor.  Matthew is still on his seizure, reflux and anaemia medication. Over the past few months Matthews eyes have been our main concern as Matthew has undergone 7 surgeries.  Now that Matthew's eyes are stable at the moment, we want to give our attention to helping Matthew reach his physical and sensory development.  
There is strong research to suggest that therapies can help children with Patau Syndrome reach their developmental potential. 
We are launching this appeal in order to raise funds for a sensory room for Matthew, including specialist sensory toys, supporting aids and therapy. 
                                   *UPDATE SEPTEMBER 2016*
Over one year on, and we are so thankful for the support we have received, both financially through everyone's fundraising, and also the encouragement and best wishes Matthew and ourselves have received. 
Matthew has continued to have challenging times, with both his health and development.  Matthew has had 9 surgeries to-date and over 20 hospital admissions in his 2 short years. 
Matthews private Sensory Occupational Therapy and Physiotherapy are still ongoing thanks to the fundraising to-date. Progress is slow, but certainly moving forward. Matthew can sit unaided and can move backwards on his bum. 
Matthews Sensory room has been installed to suit his needs at the moment, and has been planned that can be adapted as his needs change. 
We are hoping to adapt our garden to make it safe and accessible to Matthew.  We hope also to  include a Sensory Hut and outdoor Multi-Sensory toys, including musical equipment. Matthew loves to be outside, it is very calming for him. But there are obstacles in his way, such as accessibility and also challenges with wet and cold weather, as Matthew has history of prolonged and repeated chest infections, bronchitis and pneumonia; and also sunlight is a difficultly as Matthew is photo-phobic. So with very careful planning, our next project is to have a garden that is safe, accessible, suitable and FUN for Matthew!
                                                   *THANK YOU*

 If you can give a donation, please do. Every donation, no matter how big or small will be greatly appreciated. 
Donating through JustGiving is simple, fast and totally secure. Your details are safe with JustGiving. Should we exceed the target amount(or do not raise enough funds, or cannot use for any other reason) the funds raised will go to general funds of Tree Of Hope to assist other sick children. 
Many thanks,
The Cartmill and Clerkin families.