Masons mission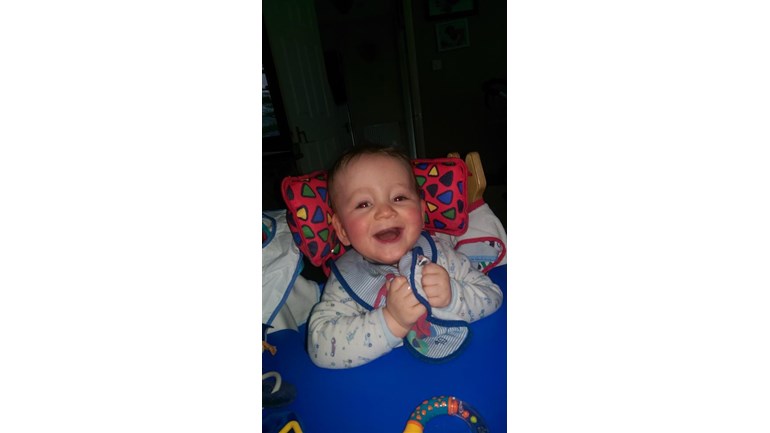 Well here goes....

My son Mason is a 21 month old boy and is generally a very very happy boy.

Since around 8 weeks of age his health visitor noticed that he was not smiling or fixing and following as a normal child of that age should be, at 12 weeks old he had a bilateral hernia operation and after this he also had certain feeding problems and had a very distended belly and after a few months and quite a few investigations Mason at 8 months old had another operation in the form of an ileostomy which has a bag attached to his belly to avoid the large intestine (colon), the bloating of his belly stopped and his feeding got a little better but there was still no diagnosis found and he is due to go to Great Ormond Street Hospital for some intensive tests early 2017 to see if the digestive system may be working properly now and could get reversed.

As well as his digestive problems he has severe global developmental delay and in that spectrum, some problems are CVI (Cortical visual impairment) so he cannot see how a person should see due to the natural processing nature of signs sent from the eye to the brain not working properly, we are not sure if his hearing is in any way affected by the same sort of condition to the auditory nerves but as of yet he has not spoken a clear word but he does like to make a great deal of noise.

Mason also cannot crawl, sit up or walk due to his hypotonia and hypermobility and does not reach out or play with toys , he is very much a people person and knows when someone is in front of him and will always give them 1 of his smiles he also loves sensory things like music and lights...

again none of these issues have ever been diagnosed through various tests including MRI's, blood tests, x-rays etc,  you name it hes had it, we have just had our bloods taken for the 100,000 genomes project which is a state of the art test which has only been running for 6 months so we hope that we will get some form of answer from that but the results are so intricate that they could take up to a year to get back so we will continue to work hard as a family along with friends , occupational and physio therapists as well as all the other specialists who have been working with him for the last year and a half to give Mason the best possible chance of developing into the best he can be.

We are just looking to raise funds through various means to give Mason the specialist equipment to give him the experiences of other children his age should have but they do not come cheap we have 3 things that we are raising money for 1: is an Upsee which is a type of harness which will help Mason to be attached in an upright walking position to myself or his daddy so that he can experience and possibly learn how it feels to walk. 2: is a specialist trike which can still hold his body in a safe and comfortable way but still give him the feel of being on a bike. 3: is a bucket swing as at the parks he laughs his little head off when hes in them which is priceless .

Thank you so much for looking at Masons page




Thanks for taking the time to visit my JustGiving page.


STORY TO FOLLOW


7.5% of all donations to Tree of Hope in relation to this appeal will be allocated to the general charitable purposes of Tree of Hope to cover our core operating costs.

If we raise insufficient funds, or surplus funds, then the funds will be used, if appropriate, to fund support for our child's needs in accordance with Tree of Hope's charitable objects. If in those circumstances we are unable to use all or part of the funds for the benefit of our child in accordance with Tree of Hope's charitable objects, then any funds that cannot be used will be transferred to be used for the general charitable purposes of Tree of Hope.