Marvellous Mia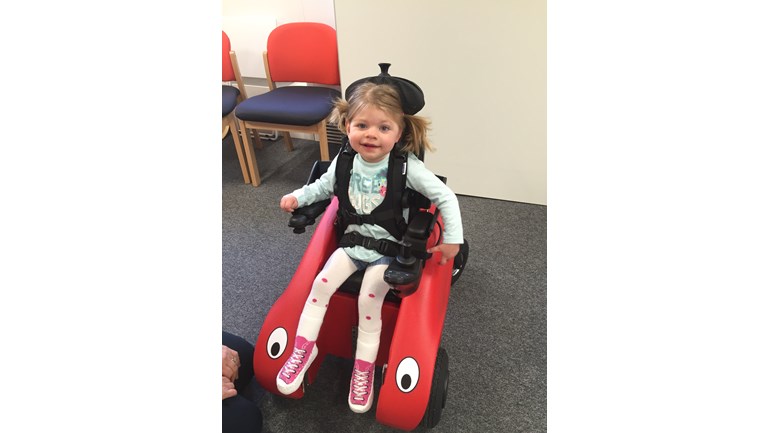 Please Help Mia to crawl, walk and talk, and show that miracles can happen.
We have been asked by so many people to setup a fund raising page so that people
can help Mia directly. So here it is !

Our daughter Mia was born on the 31st of October 2014, and after a complicated
delivery unfortunately suffered a fracture skull. This then led to a bleed on
the brain. When she was only 6 hours old, she had emergency surgery at Kings
College Hospital in London to relieve the pressure on her brain.

CT and MRI scans showed terrible brain damage of around 60/70%, which was caused
by the swelling, and offered very little hope going forward. We nearly lost Mia
in the early days but she is a fighter and it's that fighting spirit which is
changing all the outlooks she was given.

Mia's injury has resulted in her suffering from Cerebral palsy, epilepsy, having a
speech delay and sensory issues. Despite this, she is doing relatively well now
compared to where she was expected to be. No one fully knows what she might be
able to achieve in the future. She will always be affected by the brain damage
and will most probably be in a wheelchair, but with her strength and
determination, and with all of our help she might just prove people wrong.
We want to raise funds to go directly towards Mia's private physio and any
additional equipment or therapy that Mia would benefit from. Just the private
physio alone is approximately £75 per 1hr. Mia is currently only having a 1
1/2hr session a week but even this means yearly costs will run in to the
thousands. We have been advised that Mia could benefit from a block of therapy
(constraint therapy) which could potentially improve her right arm function.
This would consist of 3hrs a day for around 3/4 weeks and cost a large amount
of money.(this treatment is generally unavailable through the NHS) Obviously we
want to help give Mia the best chance of improving her mobility, and in-turn,
her life.

The money being raised will go via a charity called Tree of Hope, who will use any
of these funds raised entirely for Mia's purposes and will issue payments
directly to physio and equipment companies.
Please visit our page 
https://m.facebook.com/marvellousmia


Thank you so much for any donation you can make.

7.5% of all donations to Tree of Hope in relation to this appeal will be allocated to the general charitable purposes of Tree of Hope to cover our core operating costs.

If we raise insufficient funds, or surplus funds, then the funds will be used, if appropriate, to fund support for our child's needs in accordance with Tree of Hope's charitable objects. If in those circumstances we are unable to use all or part of the funds for the benefit of our child in accordance with Tree of Hope's charitable objects, then any funds that cannot be used will be transferred to be used for the general charitable purposes of Tree of Hope.