Helping Mahlica To Walk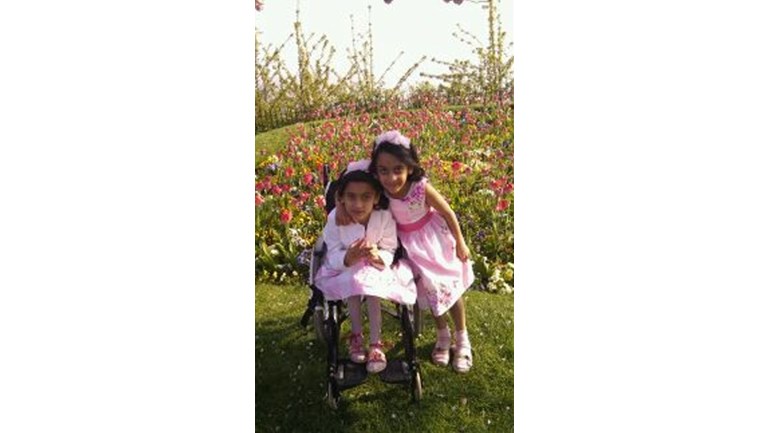 WELCOME to Mahlica's Just Giving Page.
Mahlica is a beautiful 7 year old girl from London. She likes the same things as all little girls but she is different in one way – she has a medical condition meaning she can't walk, is in pain and is deteriorating. The only current treatment is available in the United States. Without the two operations she needs, her condition will only get worse. With the operations her whole life, her whole future, can be changed for the better.
We need to raise £55,000 by the end of July in order that she can have the life changing operation in August before her condition deteriorates too much. THE ONLY WAY WE CAN RAISE THIS MONEY IS THROUGH SMALL DONATIONS FROM KIND PEOPLE THAT WOULD CHANGE THE LIFE OF A LITTLE GIRL. Every Pound, Dollar or Euro is a small step towards the total that will enable Mahlica's dream of taking her own first small steps.
Please donate and please share this page with everyone you know.
When Mahlica was born prematurely with her twin sister, she weighed just over about two Pounds. After 6 weeks, she became able to breathe without ventilators.
At 13 months Mahlica was diagnosed with a condition called Diplegia Cerebral Palsy. This means she is not able to walk and has to move around in a wheel chair. This also affects her fine motor skills, meaning everyday tasks such as fastening a button are too difficult.

During the day, Mahlica wears splints on her legs to make sure that her feet are kept in the correct position. The splints help to keep her feet flat on the floor. However, she still has problems as her legs cross over when she tries to stand meaning she is incapable of standing up.

During the night, she has to wear gaiters which prevent her from bending her legs, so that her muscles do not become too tight. The little mite finds this very painful and cannot always tolerate the pain of wearing them all night. She needs daily physiotherapy to prevent her muscles from becoming too tight and shortening.
Mahlica is a very bright and intelligent child and she goes to a normal school, where she has a Special Needs Assistant to help her overcome her physical difficulties. She enjoys school but has difficulty with writing and cannot do what the other children do for Physical Education (PE). She feels sad when she cannot play games like other children, and really wishes that she could join them.

Since being diagnosed with Diplegia Cerebral Palsy, Mahlica has undergone numerous procedures which involve having Botox injections in her leg muscles to ease the stiffness. However, this has only worked on a temporary measure, as her muscles have become progressively tighter and tighter. Mahlica's doctor has said this previous treatment will no longer work for her.


However, there is a Specialist Children Hospital in St Louis, where doctors have helped many children with a similar condition to Mahlica. The treatment is called Selective Dorsal Rhizotomy (SDR). If we can raise the money, Mahlica will undergo two operations. The first is SDR and the second will involve lengthening her hamstrings.

After the surgery she will require intensive specialist physiotherapy for twelve months, to help develop her muscles and strength, the development of which has been impossible to date due to the condition.

The operation is not available in Britain and the specialist physiotherapy is not available on the NHS. The inclusive cost of the operations and after-care physiotherapy is £55,000. This cost includes SDR surgery, orthopaedic surgery to lengthen hamstrings and calf muscles, travel, accommodation, physiotherapy and specialist equipment. The initial surgery will require a six week stay in America and there is a follow up appointment twelve months later.

This treatment will allow Mahlica to have the following benefits:
1. Her spasticity will permanently improve.
2. Her sitting and standing postures will improve.
3. She will be able to walk.
4. Both her balance and level of comfort will improve.

All Mahlica's family and friends are working really hard and are determined for her to have this operation. One family member is working three jobs to help pay for the treatment but they can't do it on our own. We really need support from generous members of the public.
It is the only course of treatment that will give her the chance to walk and not be restricted to a wheelchair. She will also be free from pain and discomfort. This is a life changing opportunity for Mahlica. As she said when we were discussing this treatment with her:
"I just want to be like all the children around me".
YOU can help, you can personally do something to change her life. Please donate if you can.

Thank you for taking time to read Mahlica's story.
Thanks for taking the time to visit my JustGiving page.
Donating through JustGiving is simple, fast and totally secure. Your details are safe with JustGiving – they'll never sell them on or send unwanted emails. Once you donate, they'll send your money directly to the charity and make sure Gift Aid is reclaimed on every eligible donation by a UK taxpayer. So it's the most efficient way to donate - I raise more, whilst saving time and cutting costs for the charity.
So please dig deep and donate now.