Maeve's Magical Journey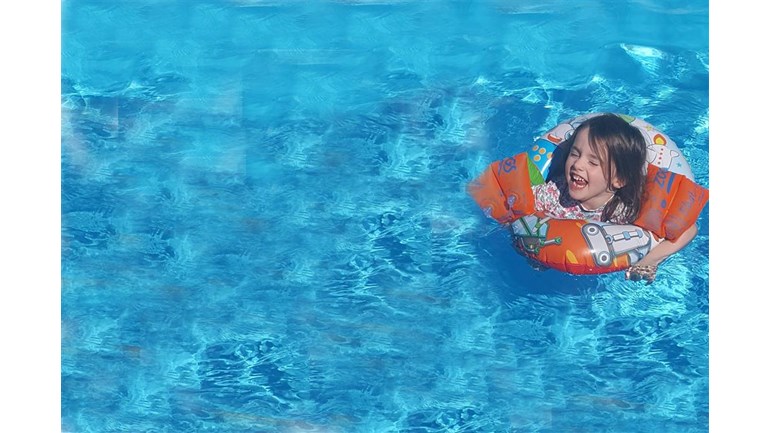 "I want to walk!" is something our daughter Maeve says quite often. When she says it, she means she wants one of us to take her by the hands and help her walk or, even better, jump. Because she can't stand unsupported, or walk, let alone jump, on her own. But we're hopeful that one day that will change.
Maeve was born on 19 August, 2013, two months before her due date. Weighing just 3lbs 13 and three quarter ounces, her unexpected arrival meant she had to spend almost a month in Special Care Baby Units, first at Wexham Park hospital in Slough before being transferred to Queen Charlotte's in Shepherds Bush. Looking at this tiny little girl in a plastic box, surrounded by wires and machinery, was a very anxious time and that daunting, exciting feeling of bringing our newborn home for the first time was magnified by our being so relieved Maeve had made it at all.
Fast forward to around nine months and it became apparent Maeve wasn't hitting some developmental milestones, most noticeably she couldn't sit up unsupported. Maeve had an MRI scan that revealed brain damage leading to a diagnosis of cerebral palsy. 

Having a disabled child isn't something you expect. The news when it comes is pretty devastating initially. You worry for the future. Simple things, previously taken for granted with Maeve's older brother, like using public transport, going to a kid's party or visiting the playground, become daunting challenges. It has altered our perspective and opened our eyes to the daily struggles many people face.
But once you accept the reality, you can plan for the future. Amazingly it's Maeve who has taught us how best to deal with the situation. Her courage and determination through the endless hospital appointments and exhausting physio sessions are incredible. Her cheerfulness and wicked sense of humour help snap us out of any negative thoughts we might have.
And her hard work has paid off. She's made amazing progress so far – she can pull herself up into a high-kneeling position and with the help of her Kaye walker she can get around, provided surfaces are relatively flat and smooth. Maeve is learning how to walk with sticks, which will allow her to access places she can't currently get to with her walker; it's a big challenge and leaves her very tired. A few weeks ago we took delivery of her first wheelchair, which she will need to be able to manage at school. For us it was a bittersweet experience but she's very pleased with it and for now, it gives her more independence than the pushchair that she's rapidly becoming too big for.
But we don't want Maeve to have to rely on a wheelchair – there's an operation called selective dorsal rhizotomy (SDR) that could give her the best chance of walking on her own. The procedure is not currently
available on the NHS and, combined with the required physio as Maeve re-learns how to move after the surgery, it will cost a lot of money. Which is why we're asking for help through Tree of Hope fundraising.
The decision to put Maeve forward for surgery is one we've wrestled with for a long time. We don't know what the future holds for Maeve - all we can do is take it day by day and offer her every opportunity to fulfil her potential to the maximum. And we're very hopeful about that.
Thanks for taking the time to visit my JustGiving page.
Donating through JustGiving is simple, fast and totally secure. Your details are safe with JustGiving - they'll never sell them on or send unwanted emails. Once you donate, they'll send your money directly to the charity. So it's the most efficient way to donate - saving time and cutting costs for the charity.
7.5% of all donations to Tree of Hope in relation to this appeal will be allocated to the general charitable purposes of Tree of Hope to cover our core operating costs.
 
If we raise insufficient funds, or surplus funds, then the funds will be used, if appropriate, to fund support for our child's needs in accordance with Tree of Hope's charitable objects.  If in those circumstances we are unable to use all or part of the funds for the benefit of our child in accordance with Tree of Hope's charitable objects, then any funds that cannot be used will be transferred to be used for the general charitable purposes of Tree of Hope.