Helping Macsen to Reach his Potential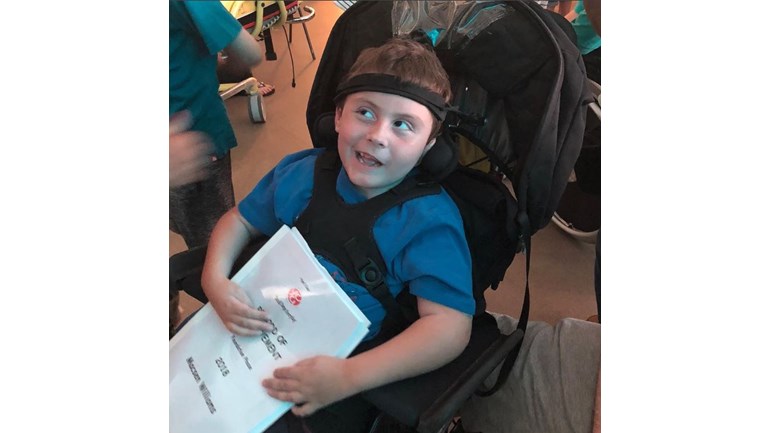 Thank you for taking the time to visit our JustGiving page.
Macsen Williams is an amazing little boy.  He was born with a very rare condition called GRIN2a which was only diagnosed when he was five years of age.  Previously he had been diagnosed with cerebral palsy.  Macsen's condition is extremely complex and his symptoms can change daily.  He is unable to sit, stand, roll, walk or talk.  He can't use his hands or legs meaningfully.  Macsen has a condition called Cortical Visual Impairment which means he is registered blind (we think he can see around a metre in front of him but are unsure as to what exactly he sees).  Macsen has intractable vomiting which means he has vomited every day of his life since he was born.  His stomach doesn't work properly and he is fed directly into his small intestine at a very slow rate via pump.  Macsen also has scoliosis (curvature of the spine) and something called laryngomalacia (a floppy larynx) both of which impact his breathing.  Macsen has intractable epilepsy which means epilepsy that cant be controlled.  his seizures have a huge impact on his day to day life as he has them every single day.  They are very agressive and he can sleep for hours after a single seizure which has a significant impact on his life.  When he is well he is very engaged and loves to laugh and play and be cheeky.
Macsen's additional physical needs means that everyday items such as tables, chairs and toys are unsuitable.  Donations to date have provided Macsen with:
An eye controlled computer

Comfortable and supported seating as he grows

Specialist physiotherapy and therapy equipment
The last few years have been particularly difficult for Macsen and his family - his father also has a disability called Charcot Marie Tooth disease which affects his balance and causes muscle wasting in his limbs.  This has a huge effect on the way in which he is able to care for his son.  Macsen's mum has endometriosis and spends a large proportion of time in pain caused by this.

During this difficult time the family have been supported by fantastic care workers which were initially funded by social services.  Unfortunately the funding was withdrawn, but the family were able to keep the package running using money raised for Macsen.   This has paid for one of the care workers/play specialist to look after him at home for 12 hours a week (two afternoon/evenings).  This means Macsen can have time away from his parents and older brother to play, be cheeky and feel like any other child.  The carer is very creative and finds inventive ways for Macsen to bypass his disabilities to do fun activties. 
During this time his Mum, Dad and his brother have some respite from their caring duties so they can recharge and have time with each other.
This care packcage costs £500 a month and funds are running low and will only last for 3 more months.
Any donations received will be used to pay for the existing care package and will be greatfully recieved.  Macsens life could be very different were it not for the extremely kind donations he has recieved thus far.