Luke Stewart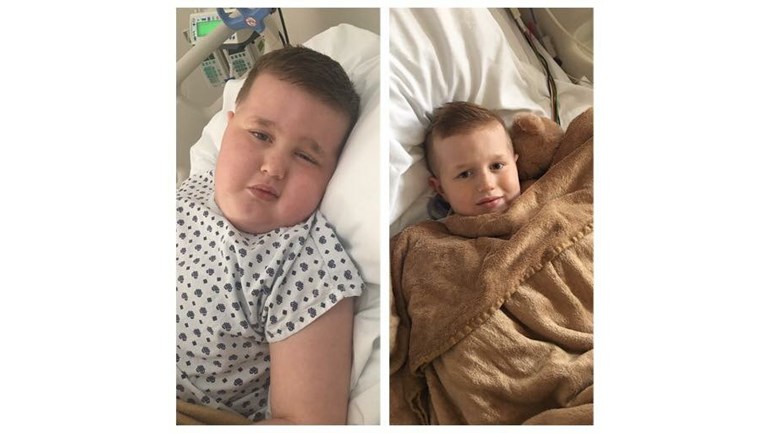 Thanks for taking the time to visit our JustGiving page.
Our Little boy Luke is 8 years old & was diagnosed 6/01/17, with a rare inoperable cancerous brain tumour called Diffuse Intrinsic Pontine Glioma (DIPG) which is located in the brainstem.
On this day last year we were sat down by the Doctors to be told News that no parent should have to hear, "there is nothing we can do" " you will only have you son for another 6-9 months, 12 if your very lucky".
The heartbreak this has brought our family is unimaginable, our 2 other little boys love their big brother, but we decided we couldn't accept this, we had to look further, we had to fight, find hope for our precious son, he deserves so much.
That hope came with Monterrey Mexico, they provide a treatment called Intra arterial chemotherapy, & Immunotherapy combined.
We moved to Mexico in May last year for 4 months with our family when we left the UK, our son struggled to walk, was extremely tired, rarely communicated, didn't play, didn't smile, & lost his independence, our son was dying in front of our eyes.
Luke has now had 10 Intra arterial chemotherapy treatments & 4 Immunotherapy treatments, along with 50 hyperbaric treatments.
Our Luke is now smiling again, playing football again, back at school full time, enjoying life, confidence is back, independence is back & so far this is all thanks to our amazing community, wider community & throughout the country they are saving our little boy, they have helped us raise a fantastic amount of money that has paid for Luke's treatments up until March 2018.
Luke is doing well but we can't stop having treatment, if we stop these much needed treatments we will lose our son, no where else in the world has treatments like Mexico & showing the much needed results, they are currently making history in the world, this has not happened in over 40 years.
The treatments cost a lot of money £15,000 per Intra Arterial chemotherapy treatment & £25,000 per Immunotherapy Treatment.
We currently don't know how many treatments Luke will need as it's still too early to tell as this is still very new, we currently fly to Mexico every 6 weeks, these treatments are working 🙏🙏.
Please I ask you to keep supporting our gorgeous boy, keep him alive & let him be a child like he deserves & grow into a lovely adult.
Luke is a special boy he has been through so much but never complains, always bounces back, loves everyone, kind, caring, polite, one in a million.
This is our main just giving page now with our registered charity Number:1149254, where you can claim your tax back & gift aid.
Thank you from parent to parent please keep helping us lots of love xxxx