Lukas Special Chair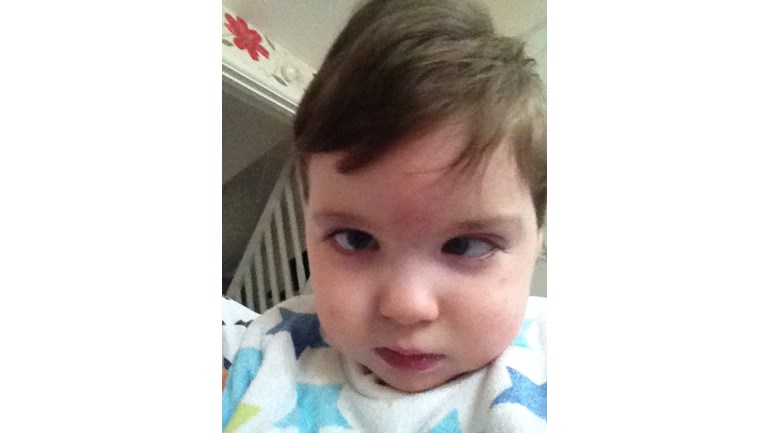 Thanks for taking the time to visit my JustGiving page
Luka was born in 2012. After a long 21 hours back to back labour we finally got to meet our son. He had the umbilical cord wrapped round his neck and had swallowed some meconium so was given some oxygen to help him breath. Hearing that first cry was the most amazing sound in the world. After just 7 hours of giving birth my husband and I were allowed to take our baby boy home. We were both very excited but this is where things started to change.
In the first days our little Luka cried constantly who being my first baby I presumed this was normal and was told on many occasions that's what babies do. However, something didn't feel right to me. My little man also looked all twisted in his neck and was unable to move his head to the left. 
I made an appointment with my doctor to look him over. The response I got was everything's fine. "It's a new environment for your baby and he will adjust", but he didn't adjust and the constant crying continued. I was emotionally and physically drained from lack of sleep and worry for my baby boy. What was wrong with him? I made further appointments with the doctor where I was told I was a first time mum and I was worrying too much. Even when I protested there was something wrong they just sent me home with still no answers. 
A friend of mine mentioned seeing a cranial osteopath, and by that point I would have tried anything to help my baby. The day I walked through that door to see the osteopath she took one look at my boy and told me he had a twisted neck and was showing signs of cerebral palsy and I should get an urgent referral to a pediatrician. She did some work on Luka for the time we were there and it was like switching a switch as he stopped crying just like that. I couldn't believe it! The relief washed over me. She advised me that she was making him more comfortable in his body which was obviously working, but now our next battle began.
I spoke to my health visitor who made the referral for me to see a pediatrician. The appointment took 3 months! For my husband and I this had to be the longest time we had ever had to wait. We attended the appointment where they did an assessment of our baby boy and sent him for an mri scan. This was the scariest thing in the world having your 4month old baby in a machine and not being able to touch him or hold him. He was so frightened, bless his heart. 
After 2 long weeks of waiting for the results to come back we were called into the hospital where our worst fears were confirmed. Our son had cerebral palsy. My husband's brother also had cerebral palsy and was paralyzed from the waist down, so to hear this news was totally devastating, I couldn't believe what I was hearing, but it got worse as my son also had a rare condition called porenchephaly which is where the brain has been damaged and died off and in its place was a huge fluid filled cyst.
They showed us the mri scan. My son only has half a brain! They said to us that in cases like my son's there was uncertainty as to if he would walk, talk, sit, or crawl due to the severity of his condition. The final nail in the coffin was that they informed us that life expectancy would not be great as children with porenchephaly rarely see the second decade of there life. My life felt like it was spiraling out ofcontrol. My precious little boy, what was happening? All I wanted to do was pick up my baby and run away and hide with him.
Reality finally hit home but instead of wanting to run away and hide, I was choosing to stand up and fight for my boy. I contacted the hospital and made appointments to see a physiotherapist, a speech and language therapist and a neurologist. After numerous appointments, I actually felt like we were getting somewhere. My little boy was proving he was a fighter.
We have to carry out lots of physiotherapy for him at home and attend lots of appointments but my boy is doing really well. He has started rolling from right to left, and has sat unaided for 10 seconds which was amazing. He speaks 10 words currently, but every day my boy surprises me with what he does. 
As part of my son's physiotherapy programme he was given a standing frame and a bee chair that he uses on a daily basis. All this helps to support him, the only thing we don't have is a supportive relaxation chair for the evenings during family time in the front room, that would keep him safe and secure but be comfortable for him at the same time. Currently my boy just lies on the floor. We have tried to sit him on the sofa but he flops to the side as he does not have the stability to hold him self up. We applied to the family fund for a P-Pod chair but was turned down so our only option is to fund raise for Tree of Hope for this vital piece of equipment for Luka.
 Donating through JustGiving is simple, fast and totally secure. Your details are safe with JustGiving – they'll never sell them on or send unwanted emails. Once you donate, they'll send your money directly to the charity. So it's the most efficient way to donate – saving time and cutting costs for the charity.