Lucas - Finding my Feet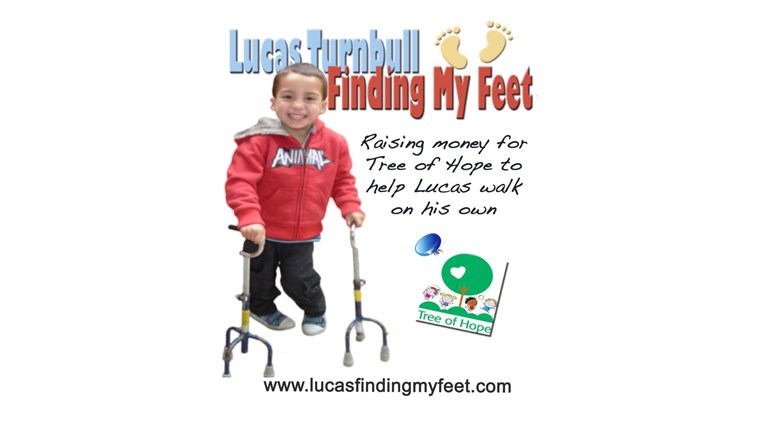 Lucas has spastic diplegia but there is an operation that can help!  He's now 3 (and a half) and can't walk or stand without help due to the rigid muscles in his legs.  It can't be cured but his quality of life can be improved by Selective Dorsal Rhizotomy (an operation pioneered by an amazing doctor in St Louis, USA).  This operation will relieve the tension and pain, prevent more invasive surgery later in life.  Please help him, stand on his own,  walk and ride a bike.
Now its close to the end of the year and we are all getting close to the £50 000 target. We can not believe we are almost there.  After speaking to others and reviewing all expenses we have a better idea of travelling/accomodation costs, a possible orthopaedic operation and future physiotherapy (most importantly the physiotherapy).
There are many people still fundraising for the Tree of Hope to help Lucas so we have agreed to increase the target to £60 000.
He was born in 2010. He did not seem to want to enter the world at first and was born after an emergency caesarian section. Lucas developed like any other child until he should have been sitting up. Convinced that there was something unusual about his development, we pushed for consultations with health visitors, GPs, and paediatricians. 10 months later Lucas was diagnosed with Spastic Diplegia Cerebral Palsy.
This condition means his leg muscles are tense and rigid all of  the time. This causes him pain, prevents his muscles from expanding and growing, and he cannot stand on his own. Through hours and hours of physiotherapy, daily stretches and this little boy's perseverance, he is now walking with the use of pods.  Although this development is amazing for his independence and building strength, he walks with great effort and tires very quickly. The tension will never go and as he grows, his condition will become more evident.  This will cause him pain and potentially deformities.  Many children with spastic diplegia are in wheelchairs during their school years.
Lucas has a chance to be helped.  Selective Dorsal Rhisotomy (SDR) is an operation developed in the United States that will relieve him of this tension, pain, and the need for some extensive orthopedic surgery.  SDR will help his balance and be a step toward him walking independently.
Lucas has been accepted for SDR in St Louis Hospital, Missouri by the doctor who pioneered this operation.  He was also recently referred to Great Ormond Street (GOSH) in London as a private patient.  This operation is not routinely funded by the NHS and neither is the extensive physiotherapy that will be needed as a follow up.
We need to raise about £50 000 (a bit less if he's accepted at GOSH).   Please help us change Lucas's life by helping in anyway you can.  All donations will go to the charity, Tree of Hope.  Tree of Hope will then help Lucas.
Thank you for your generosity.  Every penny counts.
Many thanks