The Hillcock's Assistance Dog Fundraiser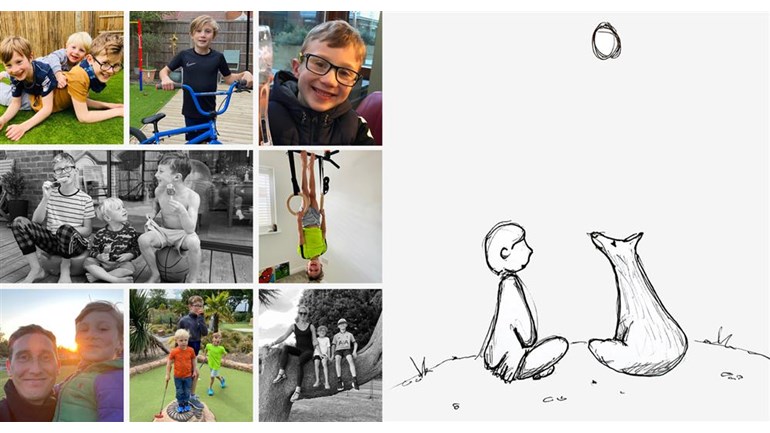 Welcome to the Hillcock's fundraising page for a Supporting Paws Assistance Dog for our son Luca. 
Luca is 7 and the middle one of three brothers. His laugh and energy are infectious and he makes us smile every day. His favourite things to do are hanging upside down, backflips and playing with our cat Belle. He loves all animals including those that live under the sea, particularly sharks! 🦈
Luca was diagnosed with ASD and ADHD at the beginning of 2020. He has also recently developed OCD, has lots of sensory processing challenges and debilitating anxiety. Life is overwhelming for him and daily tasks can be a real struggle. He often just stays in the house and has stopped wanting to do so many of the things we know he loves, like doing wheelies on his bike. 🚲 

He has such a wonderful love for dogs, currently his Aunty's dog Peppa and grandparents dogs Fizz and Bess, really help him when he needs to feel calm. Seeing the effect dogs have on Luca has led us to dedicate our time to help provide an Assistance Dog for him. 

Luca often needs a lot of help to control his emotions at home and when we go out. He finds transitions really difficult, but we have seen how when he has a dog with him, these are all just a lot easier. He also struggles to sleep and needs constant companionship to do so. The supporting paws dog will be an amazing companion for Luca and a comfort at home, but it will help him to be able to access places in public he finds overwhelming. Busy noisy places are difficult for Luca to cope with, and he will often be looking for a way out to escape. The dog will be able to access all areas with Luca and this will make him feel protected and safe, and more in control of what he's doing. It also means he can start to enjoy places again that he's stopped going to. But also experience new places comfortably and come out with us as a family. Often we have to take Luca out on his own as even being altogether can be too overwhelming sometimes. 

The Supporting Paws Assistance Dog will receive specialist training specific to Luca's needs, it will help to reduce his fight or flight behaviours and  greatly reduce his anxiety outside and inside the home.  The dog will visit us regularly during training so Luca can get to know his new best friend. 

As a family we are going to do some fun challenges over the coming months to help raise money for this wonderful programme. It's going to be a bit tricky during lockdown,  so we will have to think outside the box for ways we can do things to make it fun and challenging. 

We greatly appreciate your time reading this, even just a share would help us. But if you can donate anything towards our fundraising, we are extremely grateful, and you can be assured that your donation is going towards something that will change Luca's life for the better. 

Keep up to date with our pictures and challenges as we go, and if you have your own ideas for fundraising please feel free to share them with us. 

Our first Hillcock challenge: Stu will be running a minimum of 13 half marathons until our dog arrives (minimum dog training is around 12 months). He will link his runs here through Strava 🏃‍♂️
Oliver (and Jo) are doing a 600 mile bike challenge to complete by the end of 2021! We will post updates of our miles as we go 🚴 
Thank you all so much.

Love the Hillcock's 🐾



Donating through JustGiving is simple, fast and totally secure. Your details are safe with JustGiving - they'll never sell them on or send unwanted emails. Once you donate, they'll send your money directly to the charity. So it's the most efficient way to donate - saving time and cutting costs for the charity.

7.5% of all donations to Tree of Hope in relation to this appeal will be allocated to the general charitable purposes of Tree of Hope to cover our core operating costs.

If we raise insufficient funds, or surplus funds, then the funds will be used, if appropriate, to fund support for our child's needs in accordance with Tree of Hope's charitable objects.  If in those circumstances we are unable to use all or part of the funds for the benefit of our child in accordance with Tree of Hope's charitable objectives, then any funds that cannot be used will be transferred to be used for the general charitable purposes of Tree of Hope.