Louie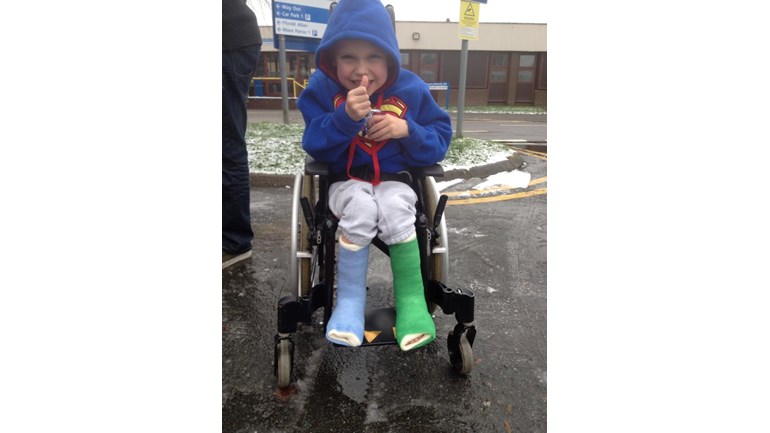 Thanks for taking the time to visit my JustGiving page,
Hi,
We are still continuing to raise money for Louie's Physio treatments after his operation. Steve and his gang are doing a bike ride from Lands End to John o Groates starting this weekend. We would all love your support for the guys that are kindly donating all of their sponsorship from this bike ride for Louie. You can track their progress and journey By following them by clicking on this link https://twitter.com/hawksmoorps

Here's a little overview of their journey...
We are starting the ride on Sunday,3 June and we expect it will take approximately two to three weeks in total. We are cycling, in the main, on what is known as the Sustrans Route. Sustrans are a charitable organisation who create cycle pathways around the UK and the route that we will be cycling, whilst it is far from being the shortest available, is mainly on minor roads or off-road and is approximately 1200 miles in total.

We do not have any back-up vehicles so we will be carrying all our gear and equipment that we need for the trip in panniers on our bikes and we will be overnighting in bed and breakfast accommodation which we will book as we go. 
All about Louie...  

Louie was born at 36 weeks, a beautiful happy and healthy baby. At 7 months old Louie was unable to sit up and found it hard to move around. Louie was diagnosed with spastic diplegic cerebral palsy at 1 years old after an MRI scan revealed damage to his brain. Louie learnt to sit up unaided at 2 years old and has worked really hard to find ways to be independent and move around, at 3 he managed to crawl and then there was no stopping him. He has just stated to be able to walk and as he grows the muscles in his legs get tighter making his physiotherapy more difficult to maintain. 

At 9 years old  he is extremely bright and finds being unable to walk well frustrating at times. He is a cute, funny little boy who loves playing and with the help of his older brother Max loves getting into mischief!.....sometimes lots of mischief. 

We make sure Louie leads a normal happy life so when he is older he can remember all of the magical memories of being a child and not the obstacle of having a disability. 

The Selective Dorsal Rhizotomy operation louie has had has released the nerves in the spine which are have created the tightness in his muscles. Louie now needs to achieve positive results lots of physiotherapy to help him strengthen his legs and hopefully help him to walk unaided. 

We will be doing lots of fundraising events to raise money with the help of our brilliant friends and family.

Should we exceed the target amount (or if we do
not raise enough funds, or if they cannot be used for any other reason) the
funds raised will go to the general funds of Tree of Hope to assist other
sick children.