Little Sebby's happy helmet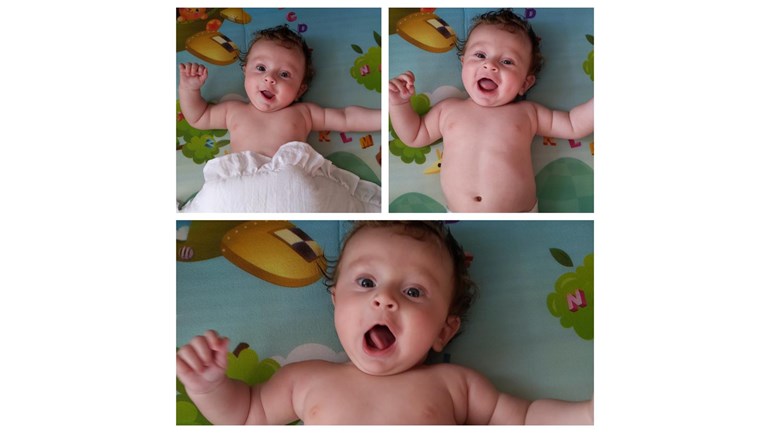 I'm David, Sebby's daddy, and my wife Eva would love to share our story. Sebby seems to be a happy baby and not knowing that he's turning 5 months soon with severe deformational plagiocephaly and brachycephaly damage measuring over the 92 Centile in the red zone of cranial's index. There are various factors that can cause and contribute to the development. Despite this, we carried out desperately so many plagiocephaly prevention techniques as possible and sadly our baby still got it. 
Sebby's head is flattened at the back and to the right side. This has caused his head to shift forwards causing a slightly prominent forehead and his ears to be not aligned. The longer it is left without the treatment, the harder it will be to treat. This treatment is not funded by the NHS currently as they deem the head shape to be cosmetic and followed by the advice "it will improve as time goes by". We're responsible parents and don't feel that the right thing is to "wait and see" as we already know in our case, yes, it will improve by a bit but still remains in the red zone which is not reversible and stay visible for the rest of the life. That could have a huge psychological impact on quality of the life. Sebby's expecting his helmet treatment anytime soon as is currently being manufactured and shipped over to the UK. It should improve & treated to some kind of normality.
Sebby was born during the challenging pandemic times with all services being limited to a minimum and still, it is a nightmare to get essential help. The unprecedented times has a massive impact on most of us so any donation no matter how big or small, every penny counts and would help us out and be massively appreciated. We believe there's a light at the end of the tunnel, so thank you so much to all of you!


Thanks for taking the time to visit my JustGiving page.

Donating through JustGiving is simple, fast and totally secure. Your details are safe with JustGiving - they'll never sell them on or send unwanted emails. Once you donate, they'll send your money directly to the charity. So it's the most efficient way to donate - saving time and cutting costs for the charity.