Leos dream to walk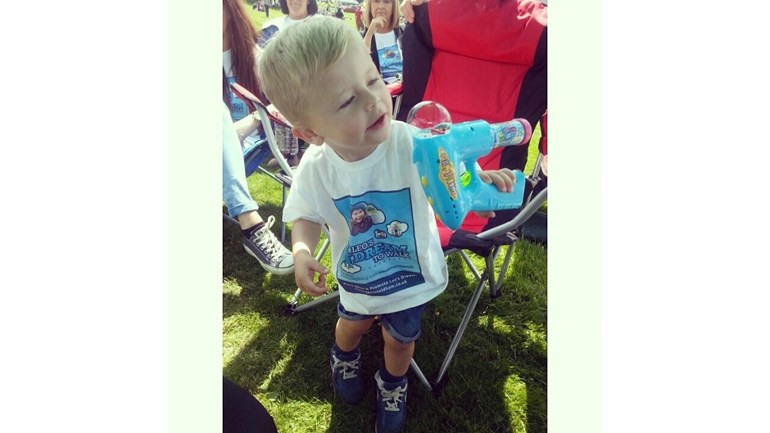 **just a quite update before you read the story**

hi just wanted to say what amazing response we have had, leos current target was £45,000 but I have now uped it as we are getting brilliant, generous people putting forward large amounts... leos target of £45,000 was for the operation and the 2years intensive phsyio afterwards,  

then plan was that when the money started to run out we was always going to have to set up fundraising at a slower pace to keep up the private physio he will always need, so this just means that now the 45 target is met we can book the operation as soon as the surgeon ia free which is fantastic 

upping the target just means anyone is welcome to keep donating and being generous and meaning that after the money started to run out that we just now have the little more extra time to focus on Leo and his physio after the operation before having to start up again once funds started to run low, and so make sure we can keep up with all the Physio that is needed which includes getting a jacuzzi style pool at home for hydrotherapy sessions which we can do daily as this is the only pool that create the amount of heat Leo needs for his muscles to recover and build.

Leo is 2 years old has spastic diaplagia cerebral palsy. He needs a surgery called Selective Dorsal Rhizotomy(SDR). This will release the stiffness in Leos legs, enabling the muscles to move freely which will then allow the muscles to be strengthened by intensive physiotherapy. All this will help Leo be able to stand and walk interdependently, sit comfortably and be pain free and giving him that new lease of life to match his amazing and cheeky personality without being restricted, the funds will pay for this operation and help with the intensive specialist physiotherapy sessions that he will need after the operation so that he meets his full potential. When the neurologist at Leeds told me and Leos dad the the SDR operation would really help Leo to walk and be pain free we knew that we would do anything in our power to make this £45,000 happen no matter what we have to do.The NHS are not currently funding this operation due to re-structure in the NHS administration. The bottom line is that our innocent little boy is denied by the NHS an operation to help him walk.  Please donate anything possible as every little helps, Thank you

Should we exceed the target amount (or if we do not raise enough funds, or if they cannot be used for any other reason) the funds raised will go to the general funds of Tree of Hope to assist other sick children.