Giving Leo A Chance To Have A Normal Life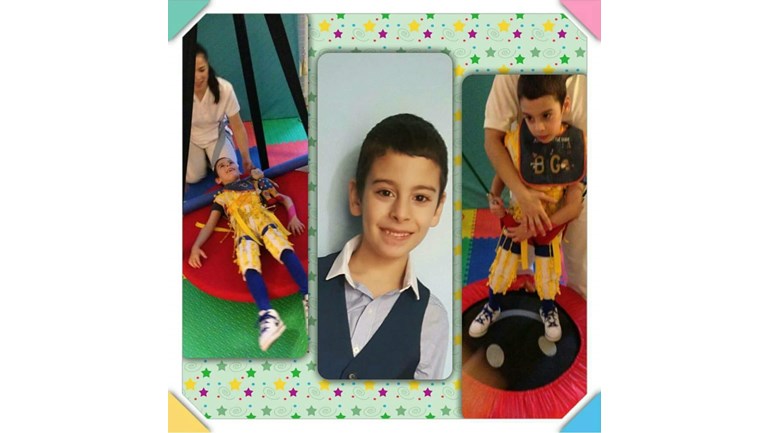 Leonardo is a 12 years old boy who was born with a rare Mitochondrial Disease COXPD12 caused by gene EARS2 and, because of this he has Leukodystrophy – missing of corpus collasom, Muscle histochemistry, Chromosomal imbalance in array 2qll.2, Epilepsy, Global development delay hypertonia, Mild lactic acidosis, Curvature of the upper spine, cardiovascular condition ( cardiomyopathy), Hypertrichosis, hypertonia , Bilateral chronic chalazia and hordeola , Weak immune and ragged red fibers.
What is Mitochondrial disease?  When a person has Mitochondrial Disease, the mitochondria in the cells are not producing enough energy. Sometimes they are not very efficient or they do not work at all. 
The parts of the body commonly affected are those that have the highest energy demands, such as brain, muscle, liver, heart and kidney. There is currently no cure for this disease. 
Leonardo is followed up by specialised doctors at Great Ormond street hospital and Evelina childrends hospital.

At 8 months he was just given days to live. Leo has been fighting for his life since then, so much he has made so many improvements that us ( his parents) and doctors consider his progress a miracle. These improvements have come from his strength and intense rehabilitation therapies. 

We help him as much as we can at home with exercises, but he needs specialised treatment from CHS-CEI intensive stimulation center in Portugal to prolong his life span and gain skills. He has completed treatments with fantastic results, and he is now walking unaided (only indoors) with about 70% balance and due to the stimulation of therapies and Ozonetherapy, his mitochondrial cells are stable and not dying.
He is a big brother to his younger sister, Bianca, and he wants to have a chance to be the best one he can be. He wants to walk and run with Bianca, and be her best friend. 
Please help us and Leo by donating as little or as much as you can for Tree of Hope. He has shown he can reach my goals but he needs everyone's help to get there.
Each treatment costs €5000, and he needs minimum 2 treatments a year for his progress to increase at a steady pace. We want to give him the best chance at life, so please help us, help him. Our goal is £100,000 as we want to secure and cover as many future years of therapy for Leo as we can.
Every penny, every pound counts towards his happiness.
You can also Donate by text message Simply text:
LEOF50 
£10 or £20
To 70070
If we exceed the target amount or if we do not raise enough, or if the funds cannot be used for any other reason, they will go to Tree of Hope to help other sick children.
Visit Leonardo's youtube page for progress videos and treatments at; youtube/leonardotaniacris
http;//facebook.com/leonardogabrielraredisease
Donating through JustGiving is simple, fast and totally secure. Your details are safe with JustGiving – they'll never sell them on or send unwanted emails. Once you donate, they'll send your money directly to the charity. So it's the most efficient way to donate – saving time and cutting costs for the charity.