Astronaut Ari's trip to Adeli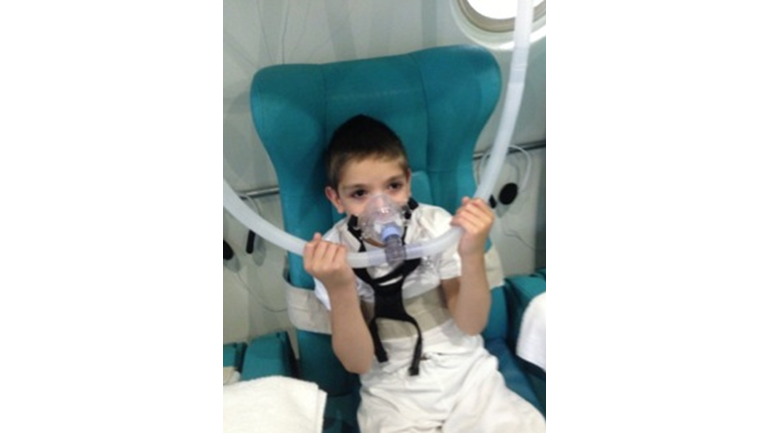 Please help us raise £7500 for Tree of Hope to help Aran receive a three week intensive block of therapy at the Adeli Centre 
Thanks for taking the time to visit my JustGiving page.
One small step for Aran, one giant leap for his future...
Aran (Ari) is my beautiful, brave 8 year old boy with Cerebral Palsy.
Over Ari's life he has already battled more than anyone should ever have to, bravely enduring multiple operations, intensive therapy sessions, as well as the frustration of not being able to run and play with his brother and sisters. But Ari humbles me every day, he never lets any of this get to him.
A glimmer of hope...
In 2011 as any parent would do, we worked endlessly to give our son a shot at the chance to walk freely. We raised enough funds to take him to the USA for a pioneering treatment to eliminate the spasticity in his legs. Following the treatment Ari has gained more independence and more confidence.
Since 2011 Ari has worked hard trying to 're-learn' all of his 'gross motor skills' by spending hours of therapy a week. He never fails to amaze me.
My boy's first steps...
In 2013, we sent Ari to Slovakia to visit the Adeli Medical centre, an internationally recognised centre that offer intensive therapy to help rehabilitate children just like my boy. Ari had over 30 hours of therapy a week including in the famous "Adeli suit" which is also used by astronauts!
Ari benefitted so much from his time there, he even took his first few steps (on his knees) whilst there! Something we never thought would be possible. The second time we went, they managed to get him walking with crutches, this has given him so much more freedom.
Sadly, its not all been good news...
Unfortunately, as with so much of his journey there has been bad news as well. Ari has developed curvature of the spine (Scoliosis) which is stopping his progress.
We desperately need to strengthen his core, which may help to straighten his back.
If we are not able to do this then Ari will need to be in the brace for 23 hours a day and will lead to muscle wastage in his trunk – the exact area Ari has given blood sweat and tears to develop during his entire life in order for him to take these few steps.
Ari's determination helped him to take his first steps, so for my 8 year old to face the prospect of a life in a wheelchair now is just unthinkable.
He's also just had to have a Bilateral Achilles Tendon Lengthening, this was to help his get rid of the tightness in his ankles so he can move his feet more freely. He has both his legs in cast for 3 weeks. When these come off, we will have a huge uphill battle on our hands to get him back to where he was before the operation.
 Ari's next stop the Adeli Medical Centre in Slovakia?...
To strengthen Ari's core and build the strength back up in his legs following his operation, The Adeli centre can offer him intensive therapy over a three week period but Ari needs to raise £7500 in order to enable him to do this.
Ari is looking for support for his cause via 'Tree of Hope' charity. From a one off donation to sponsored activities, therefore any way you can get involved will make a huge difference to Ari's future.
Thank you for taking the time to read this and with your help Ari will have a better chance of an independent future.
Thank you for your time.
 Kurda (Ari's very proud Mummy)
 P.s I've enclosed a link to both Youtube and Facebook where Adeli have posted a short video of Aran's time there over the summer.
http://www.youtube.com/watch?v=k3VjPBHI4ng
https://www.facebook.com/adelicenter/posts/10151816326196788
Should we exceed the target amount (or if we do not raise enough funds, or if they cannot be used for any other reason) the funds raised will go to the general funds of Tree of Hope to assist other sick children.
Donating through JustGiving is simple, fast and totally secure. Your details are safe with JustGiving – they'll never sell them on or send unwanted emails. Once you donate, they'll send your money directly to the charity. So it's the most efficient way to donate – saving time and cutting costs for the charity.