Kim's Wishes for Willow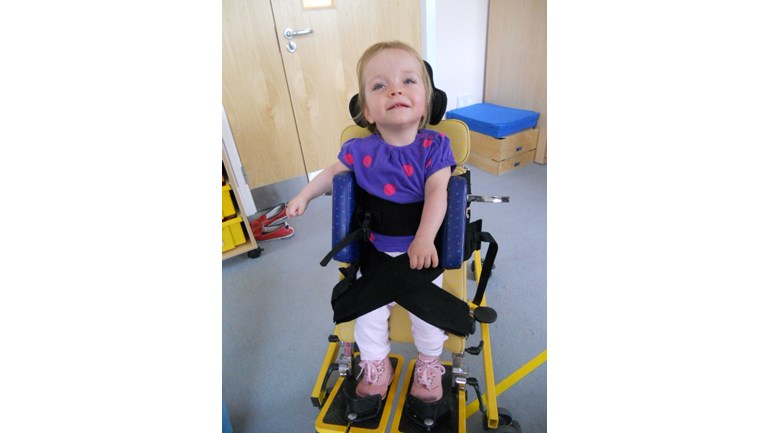 If I had a pound for every time I made a wish for Willow I would be a very rich lady & not be fundraising!
She didn't have the best start, born when I was just 24 weeks pregnant in January 2012, her twin brother died a month after he was born, but she carried on fighting. She came home after 17 weeks and 3 days in hospital, on oxygen till Novemeber, I thought my worries were over. 
In the August it became obvious there was a problem, she didn't move much and her hands were always claspsed tightly into fists, she would go very stiff and never seemed to play. I was told there was a neurological problem but she was still perfect - that is true!
In January 2013 Cerebral Palsy was her diagnosis, then July a clearer spastic quadraplegic, awaiting an MRI scan at 2 years to confirm her premature birth being the cause of her brain injury. 
She is a happy, funny little thing, who laughs at 'Round and round the garden' before you get close to the tickling! She tries very hard at everything she does, using her whole body to try and achieve what she wants, unfortunately the more she tries the more impossible it becomes. She knows what to do but she can't get her body to do it.
I don't like to focus on what she can't do, but to understand her need you must understand where she's at. She can't sit, she can't crawl, she can't keep her head up for longer than a minute - it lolls backwards and forwards,She can't feed herself, she can't stand, she can't walk, she can't use her hands together & she's delayed in her speech - she's 19 months old.
Targeted training at The Movement Centre for 9 months will enable her to have head control, she can look at what she wants - rather than me guessing, she can see the world, she can smile at people and she can stop bumping her head when the control goes. It will open up her life and perspective. Who knows what further sessions may achieve. My wish would be that she would eventually be able to use her hands- she could play and feed herself and point to what she wanted .
I am lucky that I have such a beautiful, vibrant and fiesty little one, i'd like her to remain that way & The Movement Centre treatment will achieve that one small step at a time. So please spare a pound to make my wishes for her come true.
If we exceed the target amount (or if we do not raise enough funds, or if they cannot be used for any other reason) the funds raised will go to the general funds of Tree of Hope to assist other sick children.