Making a difference for Zee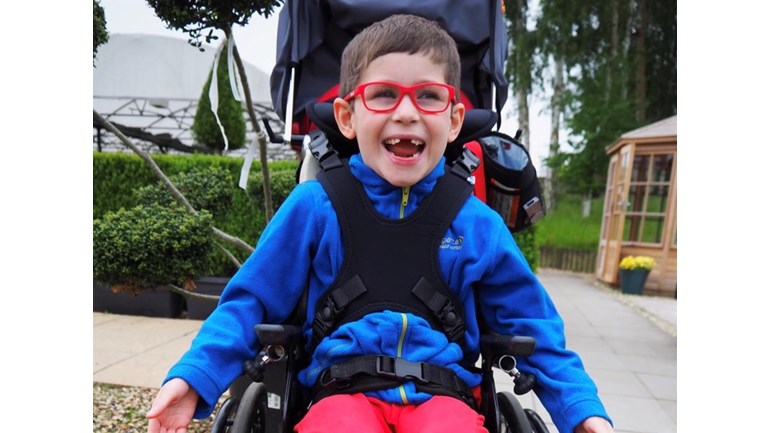 Thanks for taking the time to visit my JustGiving page.
Seven years ago we were blessed with the greatest gift on earth, our little boy, Zee. 
He has complex medical needs and uses a wheelchair, which although supportive limits him so much. We'd like to fundraise for a buggy which will will enable him to live life to the full! 
The buggy we are raising money for is called a Kimba Neo. 
We currently can't change his nappies out and about unless we lie him on a dirty floor but this buggy lays flat. Currently kerbs are impossible, we struggle so much everywhere but especially on the road we live! With the buggy he can face us when ill or when he wants to sign with us. Having suspension will stop his head being thrown all over the place when he's floppy and he can have a hood and rain cover instead of his little face being open to the elements. Plus it can fold far more compact so he can have days out with friends. 
Zee was also born Deaf and has no access to any sound. He really enjoys sensory lights and toys but these are often very expensive. If we raise enough money we'd like to be able to provide some more stimulation to him. Especially for when he is fatigued and can't support his body to play with his toys.

Zee has been fundraising for others since he was a tiny baby, he is such a caring soul and a cheeky little pickle. Please help us provide the opportunities for him by donating or fundraising for him.
Money raised goes to the Charity, Tree of Hope, held in a pot earmarked for Zee. We can then apply for items we need and tree of hope pay the suppliers direct. 
Thank you
Donating through JustGiving is simple, fast and totally secure. Your details are safe with JustGiving - they'll never sell them on or send unwanted emails. Once you donate, they'll send your money directly to the charity. So it's the most efficient way to donate - saving time and cutting costs for the charity.
7.5% of all donations to Tree of Hope in relation to this appeal will be allocated to the general charitable purposes of Tree of Hope to cover our core operating costs.

If we raise insufficient funds, or surplus funds, then the funds will be used, if appropriate, to fund support for our child's needs in accordance with Tree of Hope's charitable objects.  If in those circumstances we are unable to use all or part of the funds for the benefit of our child in accordance with Tree of Hope's charitable objectives, then any funds that cannot be used will be transferred to be used for the general charitable purposes of Tree of Hope.