Chasing Charlie's Dream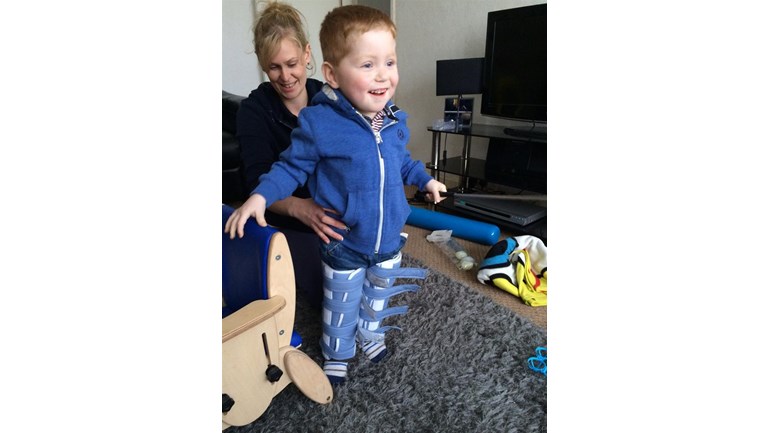 Thanks for taking the time to visit my JustGiving page. Please help us raise £20000 for 'Tree of Hope' to help Charlie recieve Selective Dorsal Rhizotomy
Hello my name is Charlie but people call me 'Charlie Bear'. I am 2 years old and would like to share my story with you. When I was in my mummy's tummy she had some complications, this meant that I had to be born way before I was ready. I was born at 27 weeks and weighed only 2lb 6oz. I was in UHCW neonnatel unit for the first 10 weeks of my life. I had a struggle but Mummy and Daddy said I was a little soldier and this is how I got through it!
At 15mths I was still unable to crawl, sit or stand like all the other children around my age. My Mummy took me for an MRI scan, this showed that I had Cerebral Palsy Spastic Diplegia. This explained why I was developementally behind.
Mummy and Daddy tell me that I am a very clever and determined little boy (which I agree with!)
I like watching Mr Tumble and playing with my toys. My favourite are my 'mat mans' (bat man) and I love going to the swings.
I would love to chase after my cousins but sadley my legs wont let me. Both of my legs are very stiff and have tight muscles. This is due to the spasticity and can hurt me sometimes.
There is an operation available called sdr and this would permanently remove the spasticity in my legs which would enable me to move more freely.
After exploring many avenues,i have now been fortunate enough to be accepted for this life changing operation at nottingham queens medical centre here in the uk.
This operation will change my life dramatically,however without intense physiotherapy the operation would not be as successful.
Please help me and my family to raise £20000 to provide me with the best possible aftercare and any equipment that i may need to aid my recovery.
Should we exceed the target amount (or if we do not raise enough funds or if they cannot be used for any other reason) the funds raised will go to the general funds of 'tree of hope' to assist other sick children.
I hope you can all help me to chase my dream...lots of love, Charlie Bear xxx