Baylie's Wish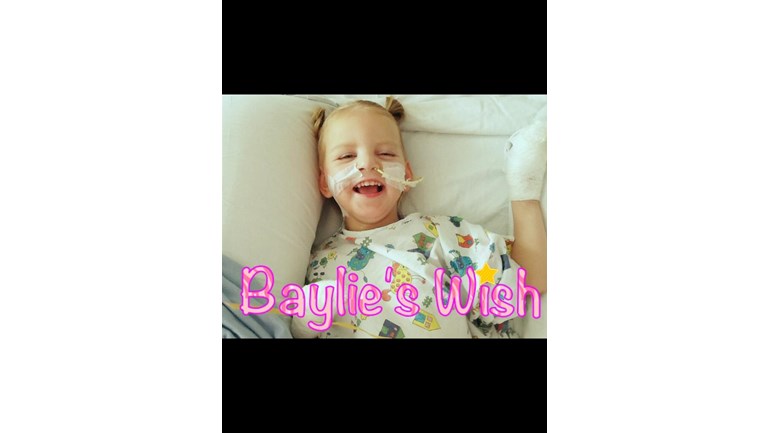 My name is Baylie Summer, or Baylie bear as everyone calls me, I am 3 years old. Before I was born I had a stroke in my mummys tummy and a massive brain bleed. My mummy and daddy worried about me for the rest of the pregnancy, after lots of tests and MRI scans, they were told doctors didn't know if I would survive. Doctors decided it was time for me to meet everyone and on the 6th of April 2010 I was born! Everyone's worries melted away and everyone thought I was perfect, which I was, but just extra special, as mummy and daddy found out in September 2010 when I was 5 months old, that I had Quadriplegic Cerebral Palsy and Epilepsy. It was a tough time for Everyone, the first few years are a blur of hospital stays, seizures, operations and procedures, physiotherapy, occupational therapy, speech and language appointments. I was a very brave girl and did everything with a big smile on my face! (Most of the time!)  Last year I began struggling to swallow food and drink, and was loosing weight, so a few months ago I had a tube placed straight into my stomach from the outside, to feed me. Mummy and daddy call it my super tube! Because it's helped me have lots more energy and put on weight, and well enough to have a selective dorzal Rhisotomy operation, (SDR for short), which is surgery on my spine, cutting the nerves. The operation is very successful, it will make sure I'm not as stiff causing painful muscle spasms to go away! And hopefully I will be able to sit unaided, maybe crawl or bum shuffle but give me some independence to play like a 3 year old little girl should! I would love to be able to join in with my 2 big sisters more! After the SDR operation I will need intensive physiotherapy that will give me the best possible chance to reach these goals, this is what we are fund raising for and for a special hospital bed for me to have at home that I will need to use as my permanent bed. My operation will be In march/April time this year, so if you could help, you would be making a little girls wish come true.
We are also having sponsored bikes rides, etc and my daddy is climbing the 3 peaks mountains with his work friends to help raise money! Thank you everyone!
I am also fundraising for special medical equipment to help me along my journey, an all terrain wheelchair and spa etc to help my independence and for water therapy. 
thank you everyone!
Love from Baylie bear and her mummy and daddy
x